Summary:
Solar energy had some major changes in October. Here's a map of the states that have made changes to sources of renewable energy policies.
Main Article:
November Solar Power Policies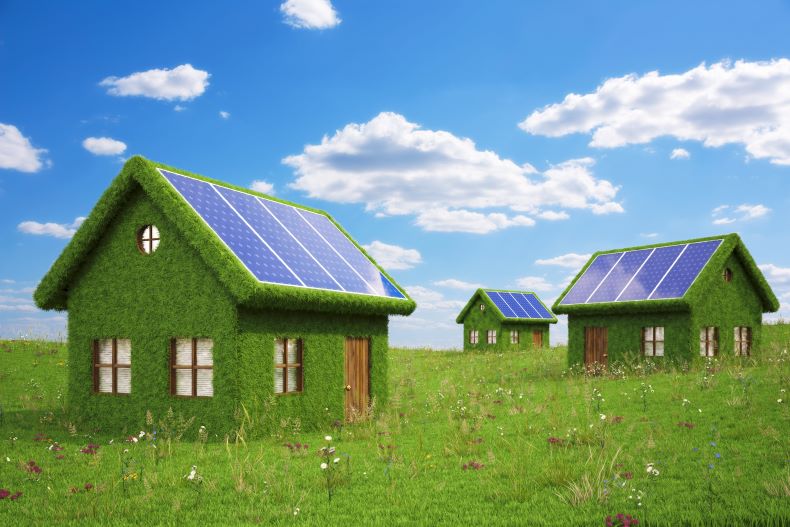 DOE funds CESA's wide-ranging low-and-moderate-income solar initiative
Washington, D.C.
The Department of Energy has committed a three-year funding award of $1.1 million to the Clean Energy States Alliance (CESA)'s initiative to expand solar projects benefitting low- and moderate-income (LMI) households and communities. The Scaling Up Solar for Under-Resourced Communities Project will focus on three LMI market subsets: single-family homes, manufactured homes and multifamily affordable housing.
Missouri utility seeks neighborhood solar energy project applications
St. Louis, Missouri
Ameren Missouri is seeking solar power project applications from nonprofit organizations, schools and other non-residential public locations as part of its new Neighborhood Solar program. Applications will be scored based on amount of solar power generation possible, total cost of solar panel installation, energy grid support, neighborhood benefits and more. The utility has allotted at least $14 million for this program.
Oregon utility resource plan includes storage for first time
Portland, Oregon
Western utility PacifiCorp's new 2019 resource plan includes significant solar-plus-storage resources to help in its transition away from coal. The utility has a goal of 3,000 MW of new solar power resources and 600 MW of battery storage capacity co-located with new solar power resources by the end of 2023 and plans to remove existing transmission constraints and improve grid resilience so the lowest-cost sources of renewable energy can flow freely to customers.
First Illinois 'Solar for All' projects approved
Springfield, Illinois
The Illinois Commerce Commission (ICC) approved contracts for its first projects involved in the Illinois Solar for All (ILSFA) program. The program awards solar incentives to developers and contractors to help offset the costs of solar energy projects and pass those savings along to low-income communities. This round of over $13 million in solar incentives will help build over 5.3 MW of solar power capacity.
SEIA partners with Kentucky and Minnesota solar trade groups
Frankfort, Kentucky and Saint Paul, Minnesota
Kentucky ranked 45th in the nation in installed solar energy capacity in SEIA's latest survey, but the state is trying to turn that around with its trade organization, the Kentucky Solar Industries Association, becoming a formal SEIA affiliate. "SEIA's assistance and expertise is vital to our burgeoning solar power industry, which is providing unprecedented customer choice and growth in high wage jobs across the Commonwealth," said Matthew Partymiller, president of KYSEIA. By contrast, Minnesota is a high-performing solar energy state that ranked 13th on SEIA's annual list. This partnership aims to make Minnesota a solar-plus-storage leader going into the next decade.
Montana renewable energy advocates protest utility fee changes
Helena, Montana
Montana sources of renewable energy advocates are protesting the state's largest utility's request to do away with net metering, according to MTPR. Northwestern Energy has proposed a new fee for rooftop solar panel installation owners that generate more power than they use, although current owners of solar panels would still be governed under old net-metering rules. The proposed rate review is currently being considered by the Montana Public Service Commission.
FP&L's community solar program now includes low-income customers
Jacksonville, Florida
Florida Power & Light's SolarTogether program is the largest voluntary community solar program in the country, offering a total capacity of 1,490 MW at 20 solar projects across its service territory. Now, FP&L is expanding the program's accessibility by dedicating 35 MW of community solar panel installations to low-income families. The SolarTogether program is still awaiting approval from the Florida Public Service Commission.
Energy Secretary Rick Perry to resign at end of year
Washington, D.C.
Department of Energy Secretary Rick Perry told President Trump on Oct. 17 that he will resign from his position by the end of 2019. The resignation comes as Perry was subpoenaed in the ongoing presidential impeachment inquiry for information on his role in the Trump administration's recent dealings with Ukraine. Trump has tapped the current deputy secretary of energy, Dan Brouillette, to become the next secretary. Brouillette previously worked in Former President George W. Bush's Department of Energy, and then in the automobile industry, according to The New York Times.
ACORE says there should be a federal sources of renewable energy standard
Washington, D.C.
The American Council on Renewable Energy (ACORE) and Wilson Sonsini Goodrich & Rosati released a white paper making the case for a federal renewable energy standard of at least 50% sources of renewable energy on a timeline consistent with climate commitments and expert recommendations. It includes technologies such as wind, solar panels and hydropower.
Mayors across the country call for ITC extension
Washington, D.C.
More than 200 mayors from 39 states sent a letter to Congress asking for a five-year extension of the solar Investment Tax Credit. The bipartisan group writes in the letter that solar adoption rose in their communities thanks to the ITC, and they want to see that growth continue. "The communities we serve, including residents and local businesses, have seen the rewards of investing in technology like solar," the mayors write.
Idaho solar advocates ask for legacy net-metering benefits
Boise, Idaho
The Idaho Conservation League and Vote Solar are asking the Idaho PUC to preserve existing solar customers' net-metering benefits when new compensation rules replace the program next year. "Idaho families that chose to invest in their energy freedom should not have the rules changed midway through the game by Idaho Power and the Public Utilities Commission," said Ben Otto of the Idaho Conservation League.
Ohio's fight over nuclear bailout nearing its end
Columbus, Ohio
After Ohio Governor Mike DeWine signed the bill to bail out FirstEnergy Solutions' two nuclear plants and two coal plants as well as gut the state's meager RPS, a group called Ohioans Against Corporate Bailouts set out to gather enough signatures to put a referendum on the ballot next year. Referendum petitioners alleged that pro-bailout operatives took steps to block and harass them as they gathered signatures. They asked a federal court to extend the signature collection deadline as a result of those actions, but the judge denied their request and asked the Ohio Supreme Court to get involved since it involves the state constitution rather than federal law, according to Cleveland.com. The referendum group did not collect enough signatures to make it on the ballot by the October deadline.
SEIA urges court to reject new fixed charges on Puerto Rico solar customers
San Juan, Puerto Rico
The Solar Energy Storage Association of Puerto Rico (SESA) and SEIA filed an amicus brief in U.S. district court asking a judge to reject an agreement that would implement new fixed charges for Puerto Rican solar energy customers. Solar advocates say the proposed Restructuring Support Agreement (RSA) for the Puerto Rico Electric Power Authority (PREPA) would undermine Puerto Rico's new clean energy policy signed into law just six months ago, which set a goal for 20% sources of renewable energy by 2022 and 40% by 2025.
Unique Salt Lake County resolution puts 100% renewable onus on local utility
Salt Lake County, Utah
The Salt Lake County Council passed a resolution setting a goal of powering the county with 100% renewable energy by 2030. Many states, cities and counties have done similar, except for one crucial difference: This resolution requires local utility Rocky Mountain Power to replace fossil fuel generation with renewables to meet the commitment. In 2020, RMP must issue a filing at the Public Service Commission, conduct a yearlong demand study and then begin the process of setting new electricity rates for participating customers.
Want to see how a solar system will look on your rooftop? Use HaHaSmart design DIY tool and then use the price checker tool to see how much you can save by switching to solar.