Summary:
With some of the worst air quality in the US, Utah is adopting solar as a solution. A new zero-net energy apartment development, Soleil Lofts, will model sustainable living, powered by rooftop solar panels and backed with battery storage, for around the same cost as other apartments in Salt Lake.
---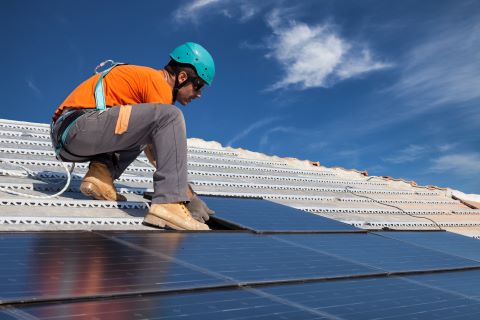 Article:
Utah Tests Zero-Net Energy Solar-Powered Lofts With Battery Storage
A new apartment development in Utah wants to model sustainable living not just by serving as a prototype for the region, but by demonstrating a game-changing way to expand residential renewable power capacity.
The Soleil Lofts, a $125 million, 600-unit apartment complex in Herriman, Utah, that's roughly 25 miles south of Salt Lake, will be a net-zero development, meaning it will generate as much electricity as it needs. The development will be powered via rooftop solar panels backed up with battery storage, with an individual battery system in each rental unit, and will be all-electric, eschewing gas stoves and heating.
Developers from The Wasatch Group, the firm behind the project, claim Soleil Lofts is the "largest residential solar virtual power plant" in the country; not only will the extensive battery storage mean 24-hour electricity for residents, but a partnership with the local utility, Rocky Mountain Power, and Sonnen means the combined battery system can in effect "sell back" power to the grid, especially during times of peak demand.
"We want to make an overall impact, not just for the local community, but to help improve the air quality in the state of Utah," says Blake Richetta, chief executive officer of Sonnen, the company supplying batteries for the project. "Part of that is changing our building practices, and showing everybody we can do this. We expect the population in the region to double in the next 20 to 25 years, and if we don't make changes now, it's going to be too late."
Soleil's battery system, which accounts for 12.6 megawatt-hours of solar energy storage, is a "dynamic, living, breathing resource for the grid, operated by the grid and for the utility," according to Richetta. Rocky Mountain Power can call upon this extra electricity during, say, a warm summer day when nearby users have all turned on their air conditioning.
Deployed at scale, this kind of system can make the entire grid more efficient and reduce the need for peaker plants, the smaller power plants fired up by utilities during times of high demand. Tesla just released a Mega Pack product utilizing batteries to achieve a similar goal.
The real beauty of the project is the cost, says Jarom Johnson, chief operations officer of The Wasatch Group. Comparable to similar upscale projects in suburban Salt Lake, units, which range from studios to three-bedroom layouts, start at roughly $1,200 a month, with an average cost of $1,450 a month. All include access to amenities including multiple spas, a gym, more than 100 electric vehicle chargers, and a large outdoor recreational facility with a waterfall.
The Soleil Lofts project also comes at a time when air quality is worsening in the rapidly growing greater Salt Lake City area, which, due to the surrounding Wasatch Mountain Range, is especially susceptible to smog. Salt Lake City, Orem, and Provo all have some of the nation's worst air, per the American Lung Association.
Housing is seen as both part of the problem and part of the solution. In its 2018 annual report, the Utah Division of Air Quality found that pollution generated by homes and small businesses would overtake all other sources of pollution in the state by 2024, accounting for an estimated 35 percent of all emissions. Growing awareness of this issue has led to increased local construction of greener homes, including more net-zero options.
"We want to prove in Utah that we can work with all of these different partners to solve a common problem and mitigate the carbon issue," says Wasatch Group's Johnson, who says his firm plans of building similar projects in the future.
Residents will begin moving in next month, and the final building is expected to be completed by December 2020.
Would you buy a zero-net energy apartment? Leave a comment below!
Ready to make your home sustainable?
Use the HahaSmart Price Checker to get quotes on solar installation today.
Then design the perfect solar array for your rooftop with the DIY Design Tool.