Summary:
Copenhagen Zoo has chosen Q CELLS solar panels to implement cost-effective, energy-saving climate protection measures. The installation of solar systems on 12 of its building rooftops will help meet its goal to reduce carbon emissions by 170 tons and save 20% on annual energy costs.
---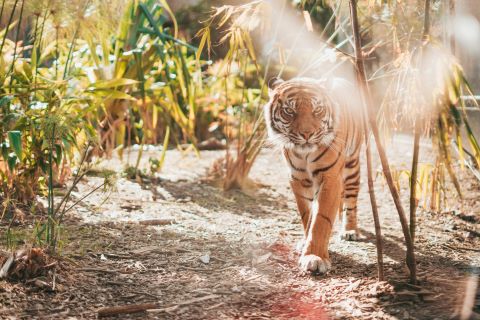 Article:
Copenhagen ZOO Now Powered by Q CELLS Solar Panels
Copenhagen ZOO is turning green and is fully committed to solar energy – powered by Q CELLS – for the implementation of its energy-saving and climate protection measures.
Copenhagen ZOO has entered into a cooperation agreement with Pensionskassernes Administration A/S (PKA)'s energy fund, SustainSolutions, and Solcellekonsulenten A/S (wholesaler) in order to enable an annual energy saving of 20%, as well as six million liters of water and 170 tons of CO2 emissions for the operation of the zoo. Solar energy plays a key role in this, as the biggest effect for Copenhagen ZOO is the installation of photovoltaic systems on the roofs of 12 buildings located in the zoo's gardens.
The solar systems have a capacity of 273 kWp, and Q CELLS' Q.PEAK DUO BLK-G5 with an output of 300 Wp and Q.PEAK DUO-G5 with that of 325 Wp are delivering clean energy from the sun, starting from the completion of the project on July 1st. The Copenhagen ZOO exclusively consumes the solar power itself. In this way, the zoo not only reduces its energy costs, but also effectively and sustainably improves its environmental balance.
Jørgen Nielsen, CEO of Copenhagen ZOO, has spent the past 18 months working on a comprehensive renovation and redesign of the zoo to offer visitors an entirely new world of experiences. "The entrance area, the restaurants and cafés, the playground and many other areas of the zoo have been extensively renovated, redesigned and upgraded. This makes the visit even more pleasant and exciting for our guests. For Copenhagen ZOO, species, environmental and climate protection go hand in hand. Therefore we are very pleased that together with our partners PKA's energy fund, SustainSolutions, and Solcellekonsulenten A/S, we can now make the protection of nature and species at Copenhagen ZOO even more sustainable with the power and endurance of Q CELLS' solar energy solutions," said the Zoo Director.
Jan Peters, Regional Sales Manager North (Europe) at Q CELLS, added: "With the help of Q CELLS' powerful solar solutions, Copenhagen ZOO will significantly reduce its electricity costs and thus effectively increase its competitiveness and sustainability. More and more companies across Europe are recognising the enormous potential of Q CELLS' C&I solutions and are focusing on solar power for their own consumption".
Copenhagen ZOO in Frederiksberg looks back on 160 years of history and is home to more than 3,500 animals and 240 species. Founded in 1859, it is Denmark's oldest zoo and one of the oldest zoos in Europe. It is a magnet for visitors to Copenhagen, attracting over a million visitors from home and abroad every year.
You can help protect wildlife from home by installing low-cost solar panels on your roof and reducing your carbon footprint.
See how affordable solar is with the HahaSmart Price Checker.
Give your home a virtual green makeover - see how solar looks on your roof with the HahaSmart DIY Design Tool.