Summary:
The North American Development Bank (NADB) is using the net profits of $126.4 million from its first green bond to finance and refinance six renewable energy wind and solar projects along the US-Mexico border. The projects total 1,118 MW of installed capacity, enough to power 438,000 homes.
---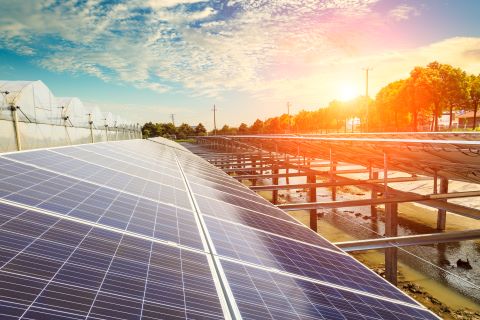 Article:
Green Bond Profits Allow NADB to Finance Solar & Wind Projects
The North American Development Bank (NADB) has published the impact results of its first green bond, issued in 2018. The bond's total net proceeds of $126.4 million were used to finance or refinance six renewable energy projects in the U.S.-Mexico border region.
NADB is a financial institution established and capitalized in equal parts by the U.S. and Mexico for the purpose of financing environmental infrastructure projects along their common border. The bank is working to develop environmentally and financially sustainable projects with broad community support in a framework of close cooperation and coordination between Mexico and the U.S.
All bond proceeds were allocated as of Dec. 31, 2018, which included the refinancing of $53.06 million for an EDP Renewables North America wind project funded within 24 months prior to the bond issuance, as well as $73.36 million in new loans disbursed to five wind and solar projects.
According to the report, these six projects have a total installed capacity of 1,118 MW and an estimated 3,312 GWh of annual renewable energy generation, equivalent to the annual electricity use of about 438,200 households. Upon completion, these projects are expected to help avoid more than 1.45 million metric tons per year of greenhouse-gas emissions, equivalent to taking 309,440 cars off the road per year.
"The issuance of our first green bond in 2018 represents a logical step in our evolution and our desire to be at the forefront of innovation," states Calixto Mateos-Hanel, NADB's acting managing director. "This report is presented a year after the bond's issuance and after full allocation of its proceeds, in adherence to the green bond principles, as well as to our own policies regarding transparency in the approval and financing of projects."
On July 24, 2018, NADB issued a $126.4 million green bond managed by Credit Suisse. The bond will mature in July 2026 and pay a coupon rate of 0.3000%.
Not sure if you can afford solar?
Use the HahaSmart Price Checker to see affordable pricing options in your area.
Financing is available to help you pay for your solar system, if needed. You can also take advantage of current Solar Inventives offered.