Summary:
Solar cars have been making headlines, but now Dethleffs is experimenting with a new solar RV. The zero-emissions, all-electric motorhome is covered head-to-toe in solar panels and filled with smart e.home amenities to take your green road trip to the next level.
---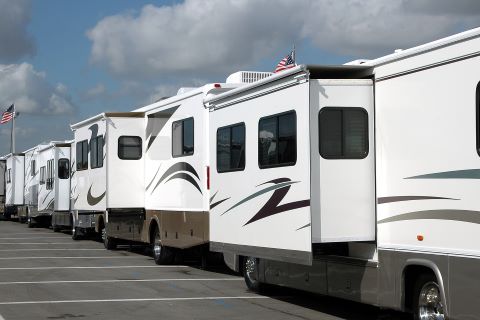 Article:
You've Seen Solar Cars, Now Introducing a Solar RV
Solar home tech has tackled everything from roof tiles to plug-and-play power systems, but campers and RVs generally only have a few solar panels on top. That's usually plenty to power electrical systems when you're camping off-the-grid for a few days, but a new concept from German company Dethleffs has stepped up the solar game.
Similar to Volkswagen's plans for a new electric minibus, the Dethleffs e.home Type C motorhome combines a zero-emissions powertrain with tons of smart technologies inside. And it's all powered by the head-to-toe solar panels affixed to the camper's exterior.
Larger than some of the electric adventure vans out there—which are almost always Class B vans—the e.home motorhome uses an Iveco Daily Electric chassis that normally has a 174 mile range without the larger camper trim. All of the extra weight would no doubt limit that range, so Dethleffs has added 334 square feet of thin-film solar panels that can generate up to 3,000 watts of electricity to keep the 228-Ah sodium-nickel-chloride battery array charged.
Inside, the design is sleek and neutral, with cream-colored dinettes and contrasting wood paneling. All of the interior equipment runs off the motorhome's batteries, even a ceramic range that lets you cook electrically.
New Atlas reports that the concept also includes two foil-based technologies, "one built into the window panes for darkening the windows for sleep and privacy, and a second in the lighting to create a mirrored surface when the light is turned off." And kids and adults alike will enjoy a lighting system that projects subtle stars on the ceiling above the alcove bed.
The e.home also uses an innovative heating system that aims to cut inefficiencies. Phase change materials absorb heat when it's hot (above 79 degrees Fahrenheit, for example), and then release the heat during cooler temperatures at night.
Because the e.home design is still in the concept stage, there's no pricing or timeline on when—or if—production will start. But like another camper that is currently on display at this week's Düsseldorf Caravan Salon—the expanding French SCarabane—this all-electric motorhome won't come cheap. All of those solar panels will add up to a hefty price tag. That being said, pushing the boundaries on new electric vans and motorhomes is the right fit for a vehicular industry that's trending more green.
While you're waiting for the solar home-away-from-home to be available on the market, check the prices for solar panels for your house using HahaSmart's Price Checker.
Then design the perfect solar panel array for your roof using the DIY Design Tool.