Summary:
The city of Danville, Virginia has been known as a tobacco city for years, but the city has been economically struggling for a few years now. However, since the mass solar install in the town, the economy has been slowly climbing up. Solar-energy isn't just helping Danville save some money, it's also bringing solar jobs back to Danville. It's helping bring jobs to Danville, which is helping the economy. The first solar farm was placed behind an elementary school and by May 2020, two more solar farms are expected to be operational. The farms will be 12 megawatts and 10 megawatts.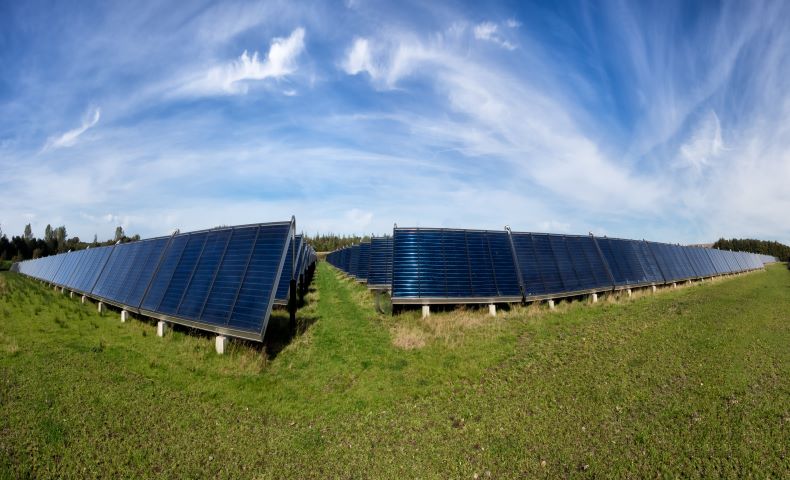 Main Article:
Danville, Virginia, is in the midst of an economic and civic revival that's powered in part by new solar projects.
Danville, Virginia's oldest and newest symbols of economic prosperity soaked up sunlight on a recent early summer afternoon.
Tobacco seedlings stretched for the sky in the mid-90s heat, same as they have here for 300 years.
Today, that legacy crop is supplemented by another kind of farm — acres of solar panels producing not just power but optimism, too.
Just outside of town, 2,300 panels spread out next to a rural school complex. The 6-megawatt system was completed a year ago and has already saved Danville about $500,000 in energy costs. It's the first of three city-backed projects coming online in the midst of an economic and civic revival in the historic city.
Danville's downtown has been boosted by capital investments and private developers using historic building rehabilitation tax credits to reinvent once-vacant office buildings and tobacco warehouses. The mixed-use developments are populated by breweries, apartments, retail stores and more.
Danville also has invested in parks and a greenway along the Dan River that flows through town. Its public schools and the local community college offer a precision machining program that's become a workforce wonder, attracting the attention of businesses and other communities looking to replicate it.
All of this activity has attracted outside investment in the form of new businesses. Virginia Gov. Ralph Northam announced last month that salad dressing maker Litehouse would create 160 new jobs by acquiring and expanding Sky Valley Foods, an existing business in a city industrial park.
With a growing number of companies in search of renewable energy as a condition of investment, Danville's investment in solar energy places it in an even more competitive posture for economic development in the future.
Boom and bankruptcy
Danville emerged in the late 1700s as the site of tobacco warehouses that quickly became Virginia's largest market. In 1840, neighboring Pittsylvania County produced 6,439,000 pounds of tobacco, the most in Virginia. Danville blossomed in the 19th century, with its growth supported by the arrival of railroads. At the end of the Civil War, Danville became the third and final capital of the Confederacy for eight days, as Jefferson Davis fled from Richmond.
The Industrial Revolution arrived in the 1880s, when Riverside Cotton Mills was established. The growing textile company took advantage of hydropower generated on the Dan River. It grew to become the largest textile mill in the South and the region's dominant employer, with 14,000 workers in a city of 40,000 during World War II. Globalization sapped the mills' market, though, and in 2004 it declared bankruptcy.
Coupled with tobacco's decline, the mills' closure depressed Danville's economy. From the 1990s onward, the city's unemployment rate consistently ran higher than the Virginia average, often reaching double digits. In 2009, during the Great Recession, the unemployment rate reached 15%.
"The first decade of this century was tough for our city and region," Vice Mayor Lee Vogler said. "We lost tobacco, and textiles were continuing to decline, and that was before the recession. From that, we've begun to rebuild and redefine our economy."
Today, Danville's unemployment rate is 5.1%. That's more than the Virginia statewide rate of 2.9% but significantly better over the last several months than at any point since before the mills closed. City officials are banking on clean energy to play a role in attracting more jobs.
More solar on the way
Danville's first solar farm sits behind an elementary school, middle school and high school, and across the street from an electrical substation. The substation's proximity minimizes transmission costs, Danville Utilities director Jason Grey said. The high school was given access to the solar farm's information stream so it could be incorporated into class projects.
Another two solar farms are planned, one at 12 megawatts and the other at 10 megawatts, and are under review by the Virginia Department of Environmental Quality. Grey said he expects the department will approve both projects by this fall, and they should be operational by May 2020.
Along with reduced costs and educational aspects, the investment in solar gives Danville a better answer when businesses ask about its energy mix.
"We're seeing some of our industrial customers ask us what's our mix as far as power supply," Grey said. "One large one has an annual requirement to ask us for current mix of renewables. We're in good shape — about 16% renewables, and the two new solar farms will bump us up to 21%."
The municipal-owned Danville Utilities manages electricity, natural gas, water, wastewater treatment and broadband internet for 42,000 customers in Danville, in southern Pittsylvania County, and small portions of Henry and Halifax counties. In 2007, just before the recession, the utility opted to let its contract with a third-party electricity distributor lapse, opting instead to invest in assets.
In addition to its longstanding hydroelectric facilities on the Dan River, Danville Utilities invested in a coal-fired Prairie State plant in southern Illinois, American Municipal Power's hydro facilities on the Ohio River, and American Municipal Power's Fremont Energy Center in northeastern Ohio.
About 17% of Danville Utilities' electricity generation has come from Morgan Stanley Energy Partners, but that contract ends at the close of 2020. After years of high rates resulting in large part from the contracts that Danville Utilities signed in 2007, the utility commission chose to let the contract expire and invest instead in building "behind-the-meter" generation in the form of the three proposed solar farms.
"The primary reason we saw solar as beneficial is because it's more economical for us," said Danville City Manager Ken Larking. "If we can have generation on our side of the meter, so to speak, it eliminates transmission charges and other charges that occur whenever there's demand. So we like that, first, it's going to save us money."
Solar attracting jobs
Solar energy isn't only helping Danville save money on transmission and capacity costs. It also stands to help the city attract more jobs as part of a broader strategy that also includes workforce development, downtown investment, financial incentives and more.
"Companies nowadays, especially tech companies, are looking at communities that have more renewable energy in their portfolio," Larking said. "We hope to take advantage of that in recruiting a data center or some other high-tech industry looking to be environmentally conscious."
The availability of renewable energy has become increasingly important for businesses across Virginia. Danville economic development director Telly Tucker said that Ikea, a furniture retailer that employs about 300 people in the city, is among the multiple companies that routinely ask about the city's energy mix.
Dominion Energy, the state's largest utility, in 2017 said it would expand its solar generation to accommodate a nearly 1-million-square-foot Facebook data center.
Vogler, the vice mayor, has made the pursuit of data centers a focus of his approach to economic development on the city council.
"Data centers have well-paying jobs that are great revenue generators" for the communities they're located in, Vogler said. "Last year I pushed for, and we signed off, on a reduced tax rate for data centers. We now have the lowest tax rate in Virginia for data centers, and we're using that as a tool to entice them, along with the solar farms."
Combined with the restaurants, breweries, and freshly renovated living spaces in downtown Danville, the solar farms are contributing to Danville's transformation — both physically and in the mind of residents who are beginning to see a viable future after decades of struggle. Some of the former mill buildings in prominent places still remain vacant, but they're attracting new attention — including fromcasino operators looking to capitalize on a state law that may open the door for gambling in certain communities such as Danville.
Danville officials agree that they'd rather see a diverse, broad-based local economy that relies on numerous employers, not a single dominant entity such as the mills. The investment in solar energy seems to complement a variety of possible futures.
"We want to be on the forefront of what's coming next," Vogler said. "Solar is a vital component. It's something that's good for our ratepayers and our citizens. We'll see those benefits even more in the years ahead."
Want to go Solar? See how much you can save before the installer comes out by using the hahaSmart price checker tool
Want to see how a solar system will look on your rooftop? Use the hahaSmart design DIY tool.