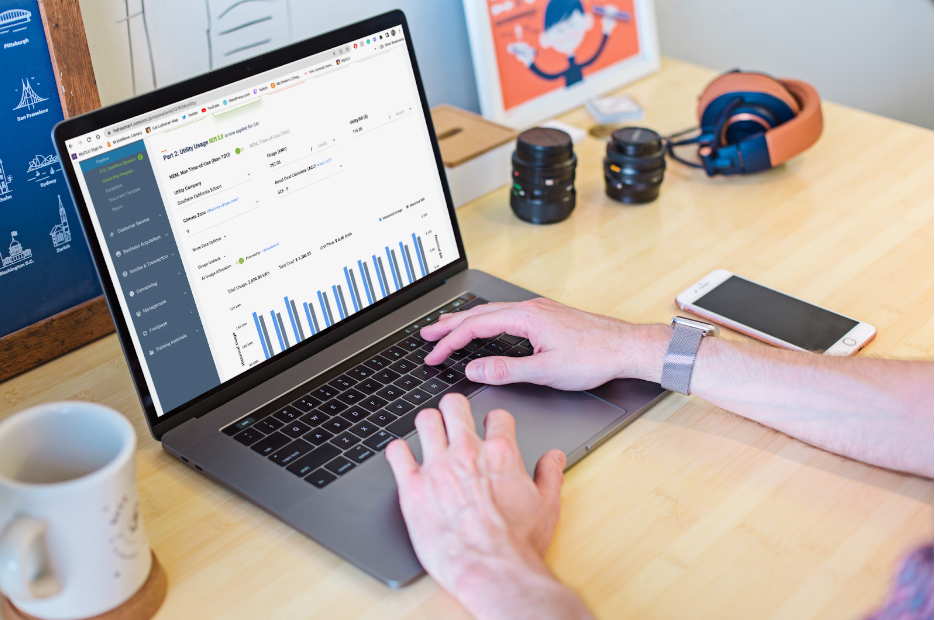 HahaSmart platform has more updates to help the EPCs regarding Utility Usage when creating a pipeline. These new updates will help calculate costs and are a big update for California residents, with NEM 3.0 now in effect.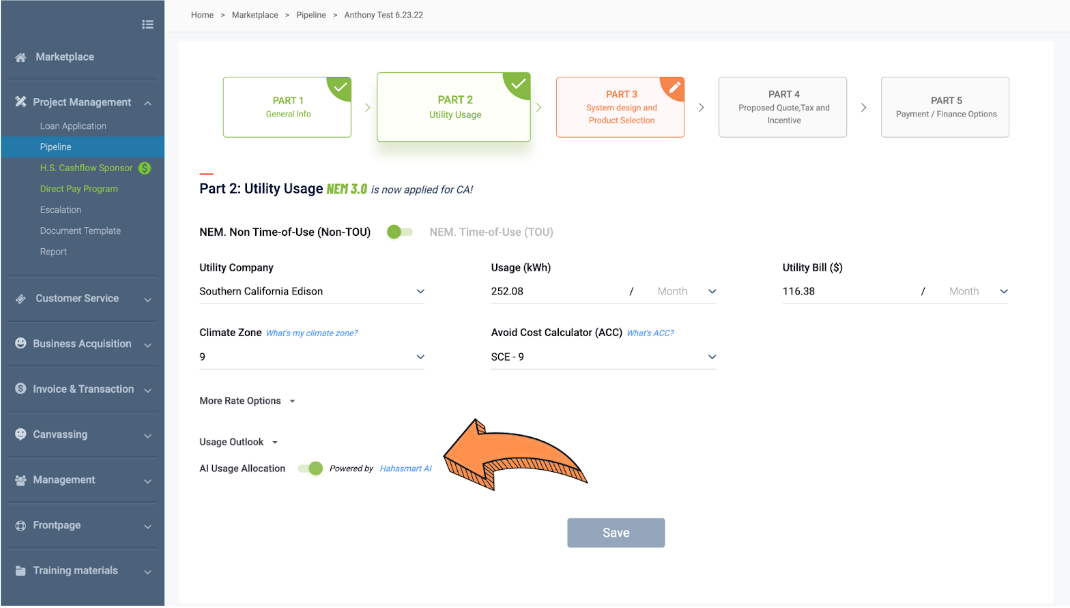 You can see we have now added a Usage Allocation tab down below. You will see our new usage allocation chart if you click this tab.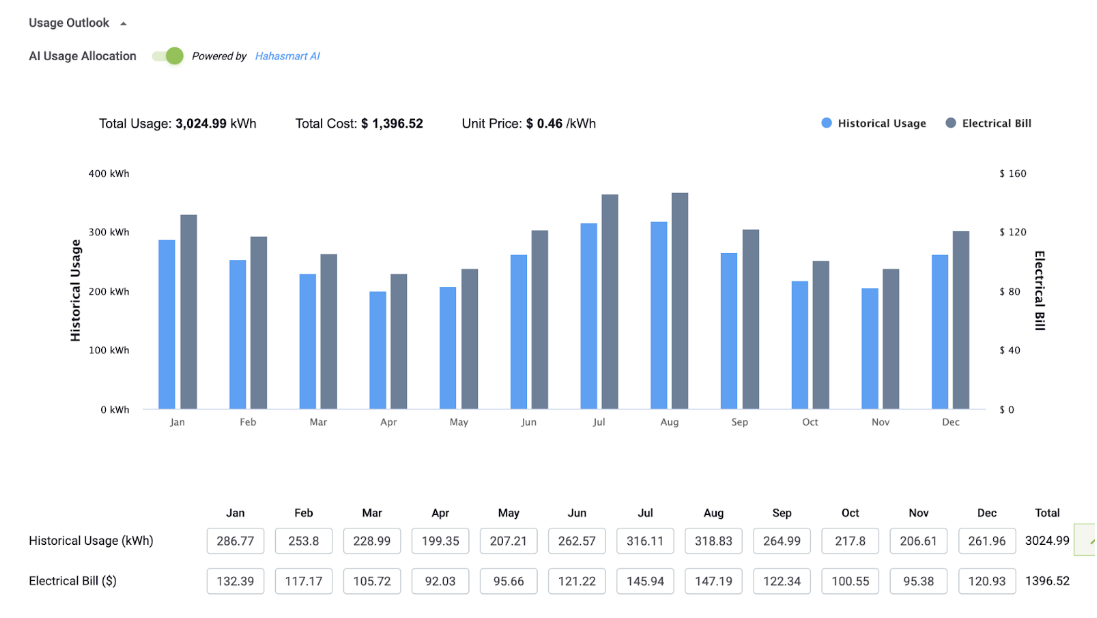 This chart is much more accurate now, and HahaSmart.com's AI platform powers it. You can see the number of watts the home will use and the electrical bill for each month. This will ensure users what benefits they will be getting by going solar. This feature is good, especially when you share with future customers what they will save when going solar.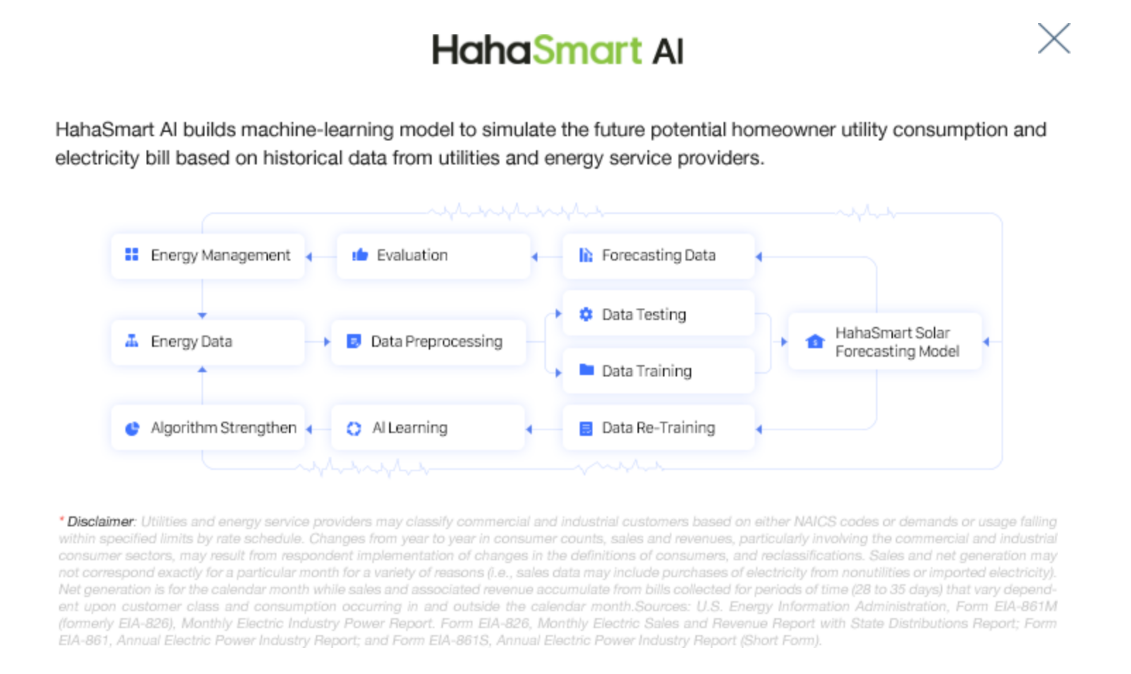 HahaSmart AI builds a machine-learning model to simulate the future potential homeowner utility consumption and electricity bill based on historical data from utilities and energy service providers. Pictured above is the data our HahaSmart AI uses to get 97% accurate homeowner numbers.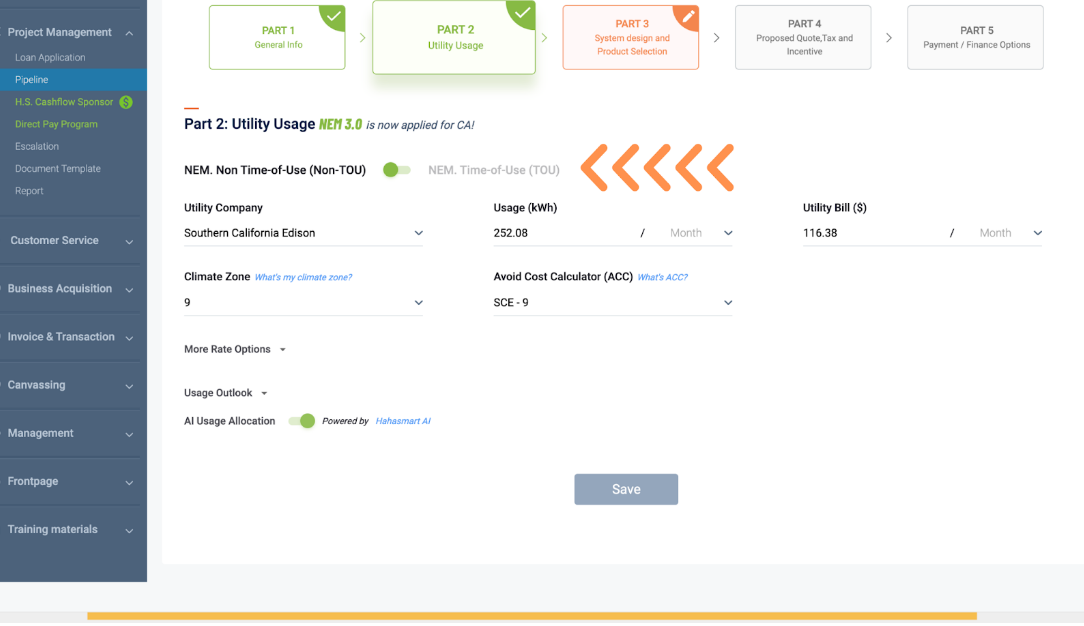 If your job is in California, you will see a NEM tab above for NEM nontime of use and NEM time of us. NEM 3.0 was placed in effect for California on April 13th, 2023. Some jobs may still fall in line with NEM 2.0. Though any jobs under Pacific Gas & Electric (PG&E), Southern California Edison (SCE), and San Diego Gas & Electric (SDG&E).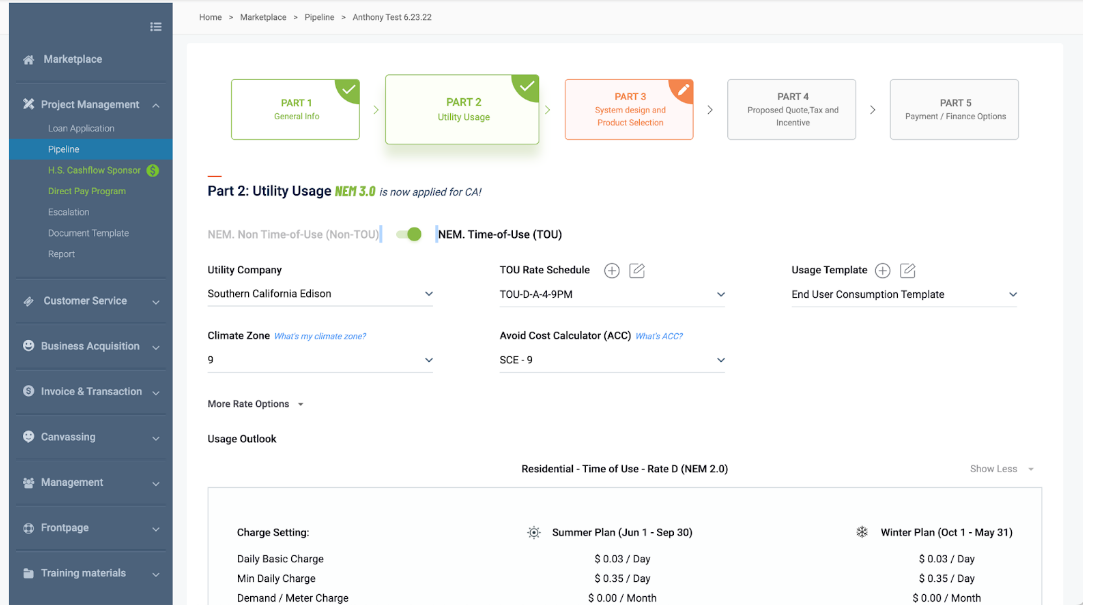 All the new updates with NEM 3.0, such as Avoid Cost Calculator (ACC), have already been built-in with the HahaSmart Proposal App. Once the user inputs the clients' addresses and utility company info, the Climate Zone and ACC will be updated dynamically. Read more about NEM 3.0 in our previous NEM3.0 Blog and CPUC 2022 ACC Documentation.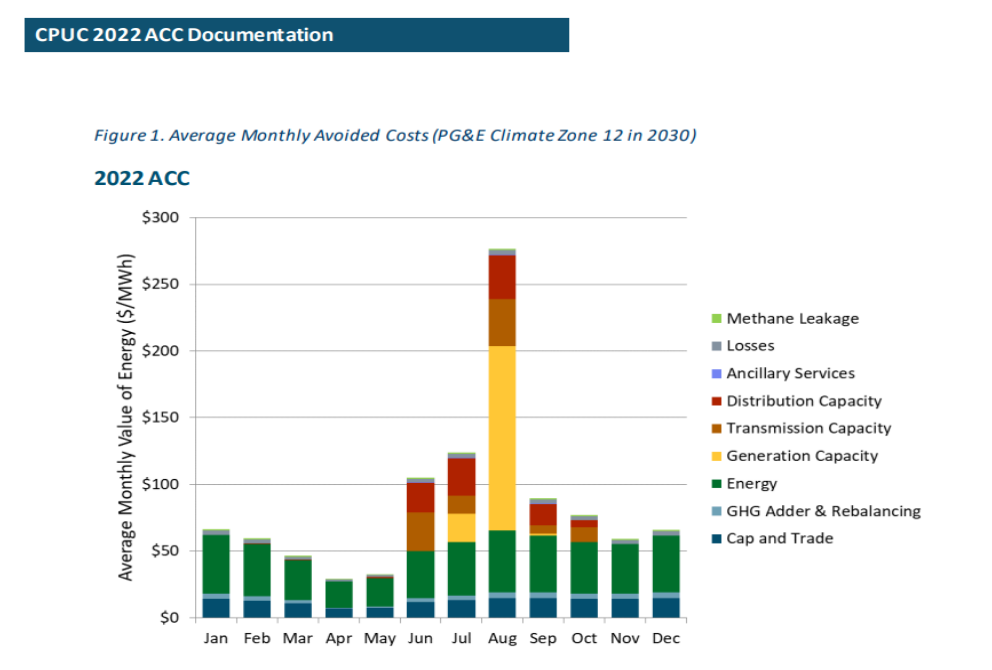 When you switch over the tab, you can see the new page where you must fill out more information, especially regarding NEM TOU (Time of Use).
When you switch the Time of use, you can see above that the prices will change based on the time you choose.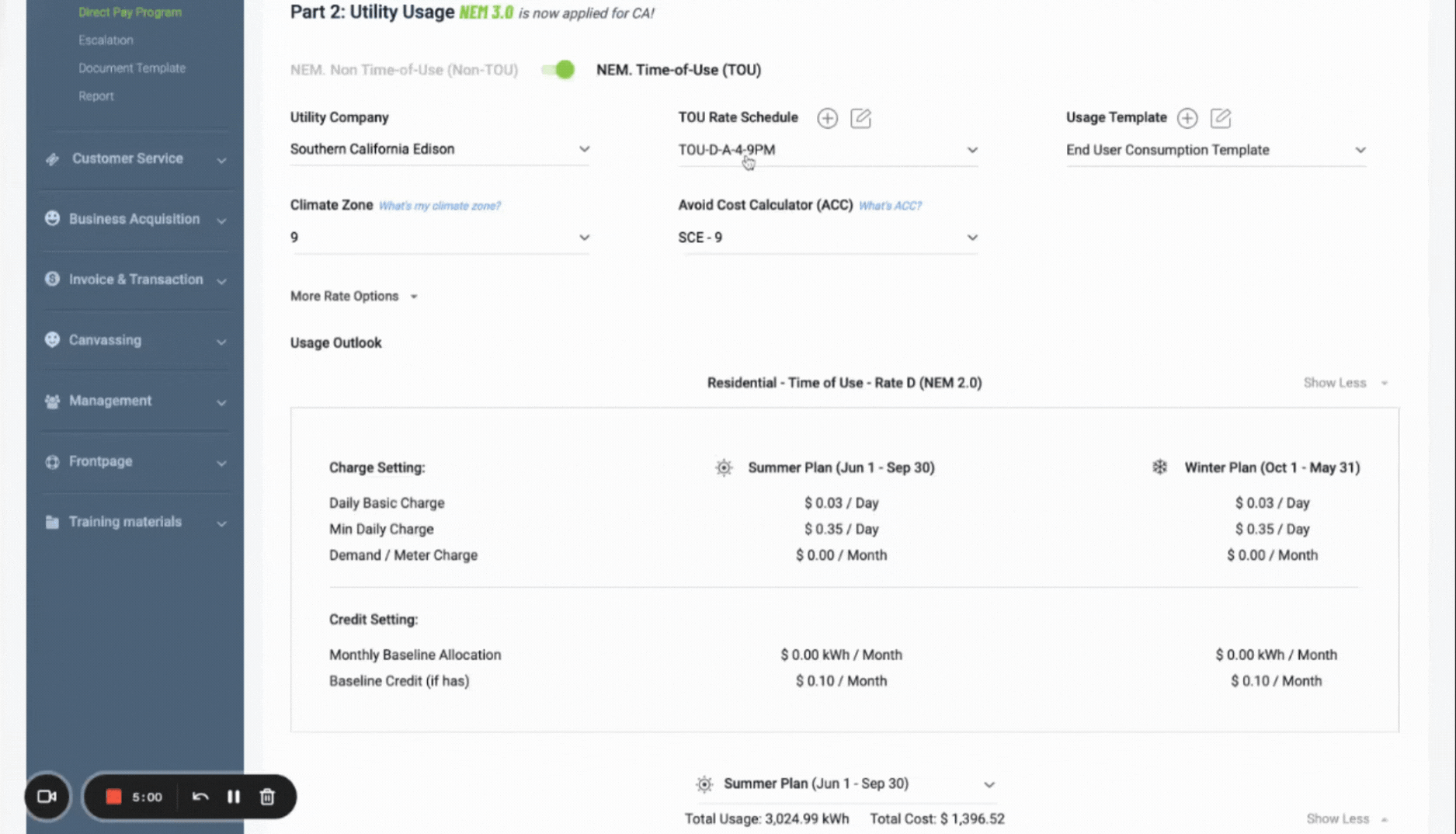 Both of these updates go hand and hand and help you as the EPC shows homeowners the overall price they will be getting if they do a project with HahaSmart.com
Follow HahaSmart on all of our social media platforms for updates on these features. Have any questions? Contact our customer service team at 818-921-6015
Want to get started with HahaSmart? Call 818-743-4524 or email us at scott.maxson@hahasmart.com.
Sign up for your free account today.