HahaSmart is constantly updating our service, so you, as a Solar Pro, get the best service possible. In July, we had a blog updating our payment details. This breakdown shows how much you will be paid for using our Hahasmart service.
In this update, project payment is optimized and presented to EPC with two sections: Payment activity and payment details.
Payment activity is the exact payment schedule that HahaSmart accounting pays our EPCs. This should be 100% consistent with all accounting records and payment emails you receive (This could take 1-2 business days delay due to the auditing process)

Payment details are the explanation of the calculated amount. This is only for your information, and it can be different with the exact payment due to real-life circumstances such as chargeback or other vendor services.
Let's break down how much you will be paid for the project below. The EPC will be paid $31,000, the commission ($15,000), and the installation fee ($16,000). But in reality, there are other services such as design, permit, and installation services HahaSmart provides, which generate service invoices for this project. As a result, the EPC will receive $18,200 at the end through several milestone payments. Payment activity will record every credit/debit activity to show the exact payment ($18,200).
Payment details will give EPCs an idea of how the initial commission/ installation fee was calculated.
To help our partner keep track of the payment schedule and to make the payment details more transparent, this update brings you a live update on the payment details before this information would be based on calculations on the project. Now the payment details will be updated as your project goes along. Like in the previous update, you can click on the tabs below to see how the payment breakdown gets handled. From your installation costs to your commission payment, clicking on those tabs gives you all the updates to ensure that the money is going to you, the Solar Pro.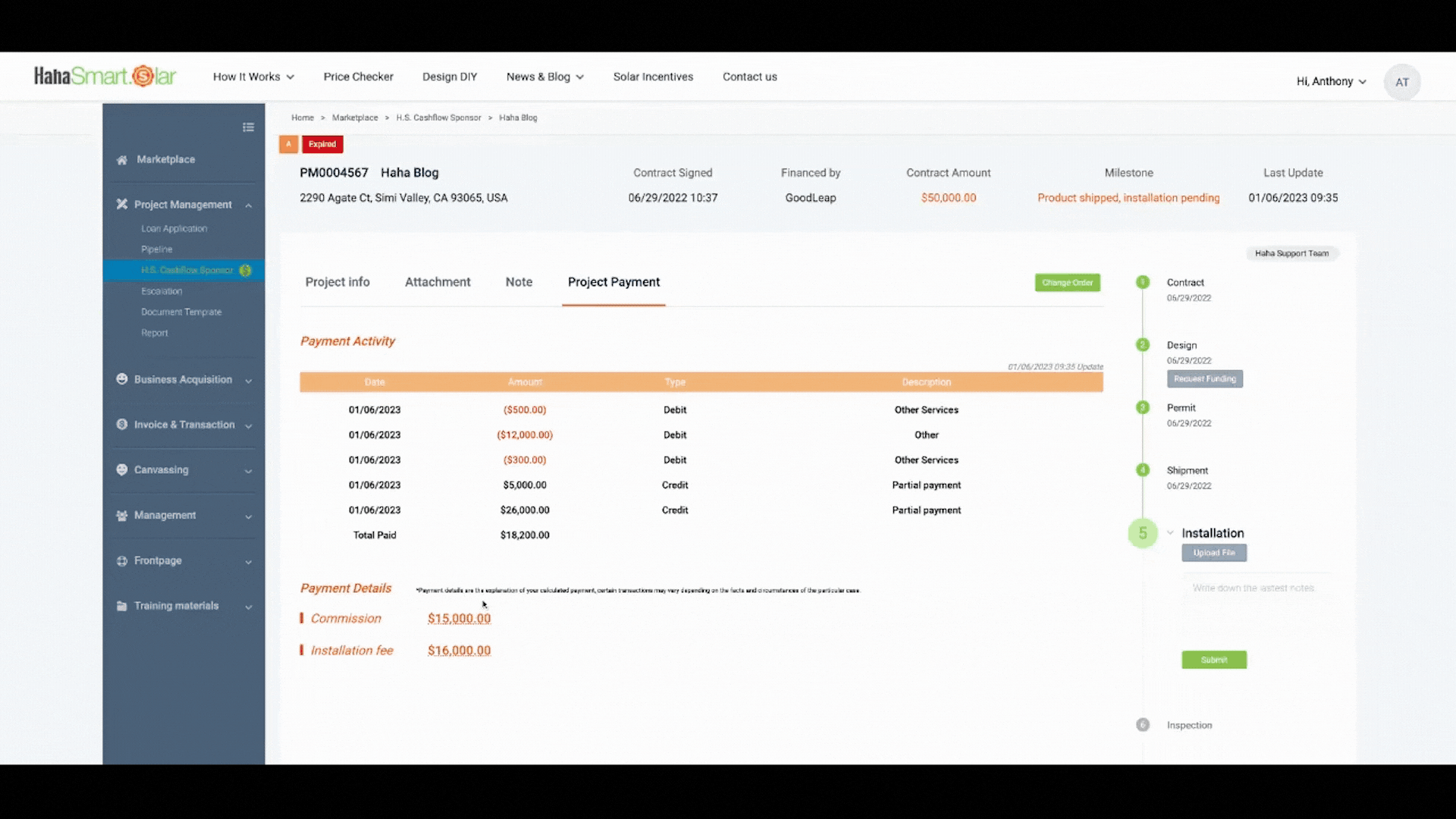 This is one of the updates with our popular cash flow sponsor program that you can sign up with HahaSmart.com.
Follow HahaSmart on all our social media platforms for updates on these features. Have any questions? Contact our customer service team at 818-921-6015


Want to get started with HahaSmart? Call 818-743-4524 or email us at scott.maxson@hahasmart.com.
Sign up for your free account and become a Solar Pro today!