HahaSmart has added a new integration with GoodLeap so that you can apply directly for Goodleap on our website.
GoodLeap is one of our partners for HahaSmart.com. GoodLeap is a sustainable home solutions marketplace. They provide simple, fast, and frictionless point-of-sale technology for countless mission-driven professionals serving millions of people who want to upgrade their homes and save money. To learn more about GoodLeap, visit goodleap.com. So let us show you how you can apply for a new loan application with GoodLeap.
First, you need to be on the homepage, and you will notice now that there is a Loan Application tab under the project management tab. Let's click on it.


Now you will see you can start a new loan application. Click on the new loan application under the HahaSmart Finance channel. If you have your own GoodLeap account already, don't worry. We will be looking to add that feature soon. Be sure to follow HahaSmart on social media to get updates.
Now you fill out the info. There is an autofill feature, so you won't have to enter your information a second time. Here are some quick tips on filling out the information.
Tips
You can provide your full SSN or just the last four digits
You may not be eligible for the loan if you are not a US citizen, a lawful permanent resident alien, or if you are not the current legal owner of this home.
Once you're done, click next to see the finance options that GoodLeap will provide you. You will see that there are options for you to toggle to narrow down your field and payment options for the product. Once you decide what will work best for your solar project, you can sign away and submit your loan.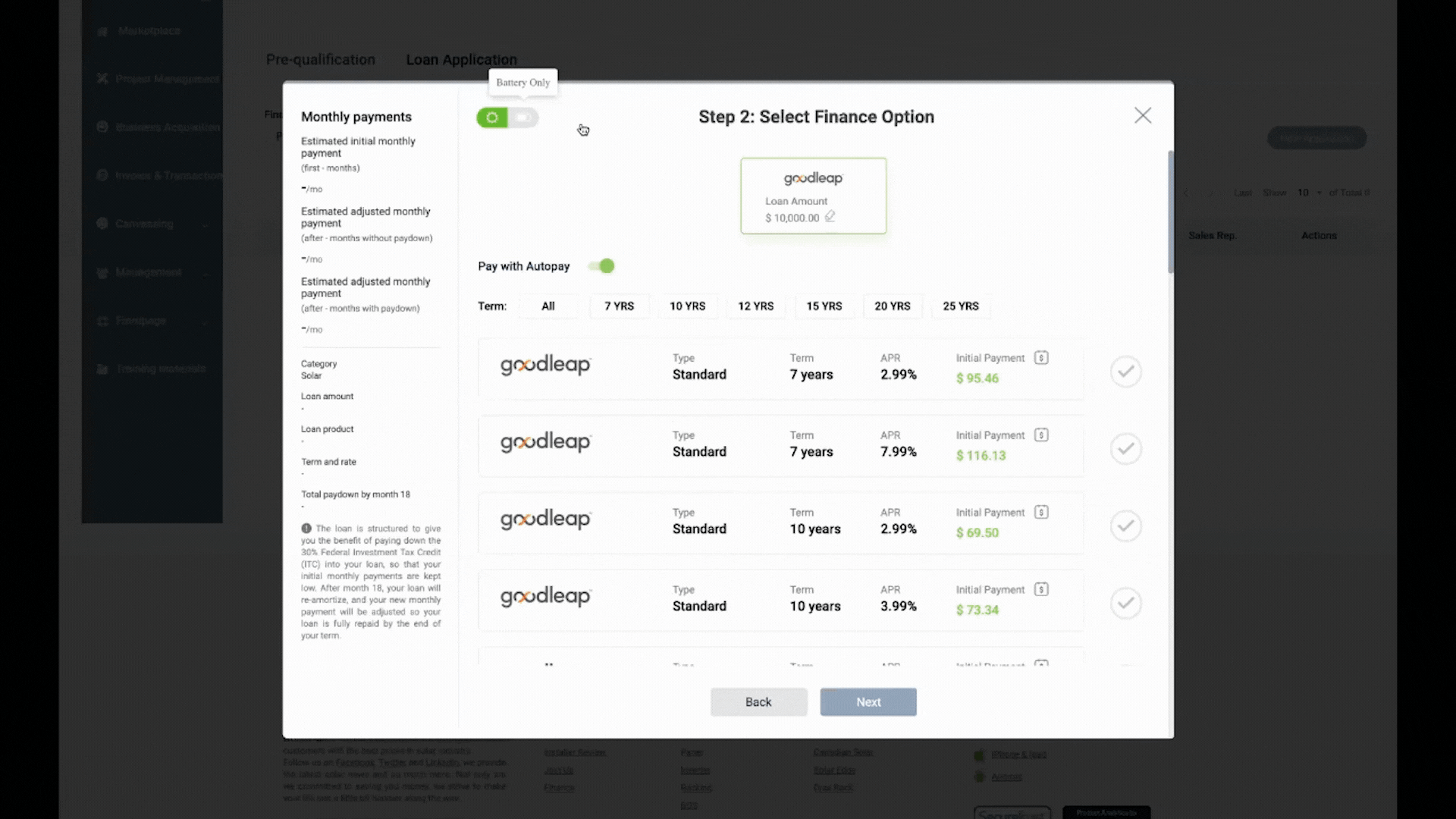 The awesome part is you can get the application decision back immediately. Be sure to check the loan status so you can see that the approved amount/offer will also be listed here. Be sure to keep an eye on your email for more details. If you don't want to submit a loan right away, a draft with all your information will be saved, making it easy to open up if needed. Our project management team will contact you if you join the HahaSmart cash flow program.
If you need help accessing HahaSmart or learning about our platform, contact our Business Development team member Scott Maxson by emailing scott.maxson@hahasmart.com.
Follow HahaSmart on all of our social media platforms for updates on these features. Have any questions? Contact our customer service team at 818-921-6015
Sign up for your free account today.