Track your Haha Project the Smart Way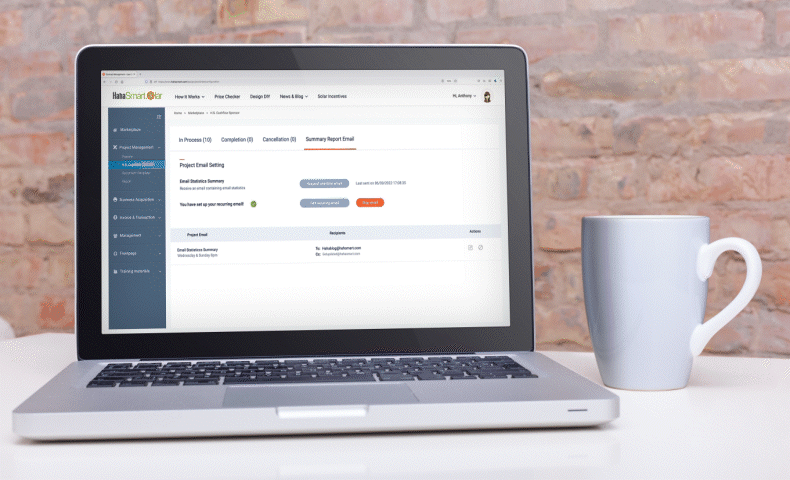 If you're listed as a manager for the project we got a quick way to send out emails to your teams. With our Email tool, you the contractor are able to send messages to team members. You can send a one-at-a-time email or set up recurring Emails. HahaSmart making it easier for you to get the reports you need.
To get into our E-Mail feature go to the list view mode. You can also access this tab in grid view mode as well. You must be a manager of a project to see this tab.
Not only is HahaSmart a free solar design software we also want to provide you with the tools it takes to run your business successfully. This new E-Mail tool is to help you the EPC be able to keep up to date or share information with others.
You can send one time E-Mail with statistics on your HahaSmart project or you can send recurring E-Mails to clients especially if the project is still ongoing.
Sending out a one-time E-Mail
Send a one-time email is a simple process. Click on the request one-time email button. Once you're complete hit send and off your email goes. There is a cooldown period before you can send another one-time email. However, we also have a feature that allows you to send emails on a frequent basis.
Schedule out recurring E-mails Weekly to Monthly
HahaSmart is an all-in-one package when it comes to solar software. To make the job even easier we have a way for you to set up recurring emails for you as the contractor so you will be able to see the history or current and former projects as your business grows.
What do you receive?
You will receive an email letting you know your cash flow summary, along with an Excel sheet with a list of all your projects. Once you're done, you can download the Excel File so you will always be up to date on all the Cashflow projects you have.
For updates follow HahaSmart on all of our social media platforms. To learn more about HahaSmart, call 818-743-4524 or email us at scott.maxson@hahasmart.com.
Sign up for your free account today.