Celebrity Solar Power Influencers

Being an influencer is a job that can make some people around 6 figures thanks to social media. Companies send these social media influencer's free products for them to post on their social media. When the influencer posts the content, they will offer a link for followers to click on, and then upon checkout, the follower will enter a code to get a discount that shows the company which influencer is responsible for the sale. Most companies will also pay social media to post their items on their page. But there's a way that you can tell if the influencer likes what they are posting if they are posting content without getting paid to do so.
Some of the best influencers are celebrities. Celebrities are super influential, they set most style and lifestyle trends. Some celebrities are paid in the millions per Instagram post, but like Instagram influencers, you can tell if a celebrity endorses something when they aren't paid to endorse it.
In today's climate more and more celebrities have taken a stand against climate change and are making more environmentally conscious choices when it comes to the cars that they are driving and the energy that they are consuming. Celebrities are one of the many reasons that renewable energy is on the rise. A lot of the most popular celebs have become aware of the environmental benefits of solar energy, which is one reason they are making the switch. Here are some of everyone's favorite celebrities have made the switch to solar power:
Pierce Brosnan
Pierce Brosnan is a very well known actor. He is known for his notable roles as James Bond, Daniel Rafferty in Laws of Attraction, Sam in Mammia Mia, and many more. Brosnan has been very vocal about his advocacy for solar panels and has a solar panel installation in his Los Angeles Home. His solar power system generates enough solar energy that he can sell the excess amount of solar power back to the grid. The I.T. actor not only has a rooftop solar panel installation, he also has a solar power system for his compost heap. Brosnan not only knows all about the environmental benefits of solar energy, but he also has incorporated different sources of renewable energy to his property, he added a water recycling system and insulated windows. He even has home programmed to shut off the lights if a room is vacant for any longer than 5 minutes. He has made sure that he emits as little carbon emissions as possible.
Brad Pitt
Since we are talking about Hollywood heartthrob's we have to mention Brad Pitt. Pitt isn't just known for his insanely attractive good looks, he is an extremely talented actor and has starred in well-known movies like Fight Club, the Ocean's franchise, Troy, Money Ball, among others. Pitt has been an advocate for the environment in 2007 he founded the Make it Right Foundation. The foundation builds environmentally safe projects for people in need. Pitt is also a big fan of solar panels. He was one of the many celebrities that participated in the BP Solar Neighbors Program. Just when you thought you couldn't love the Hollywood heartthrob anymore, he went and advocated for the environmental benefits of solar energy.
Edward Norton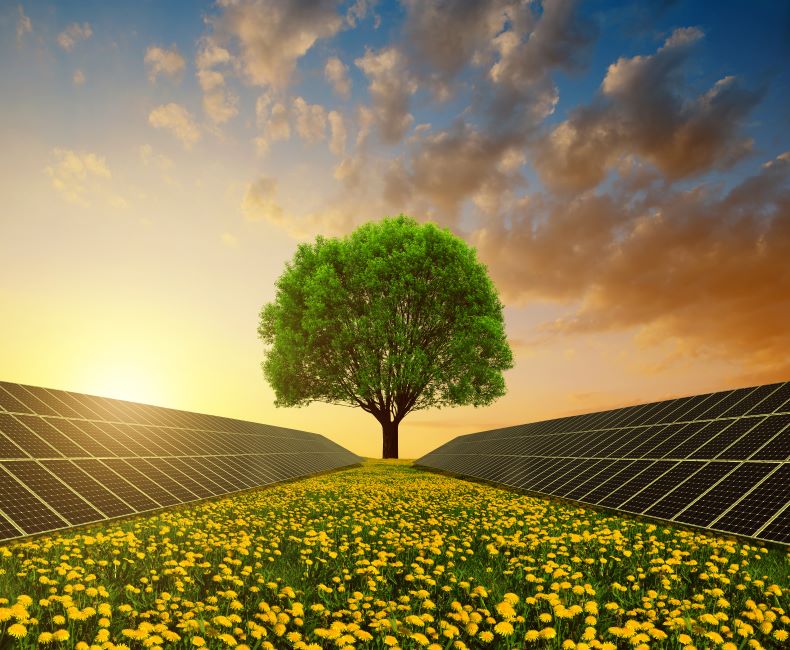 Speaking of Fight Club, another celebrity who has been a major influencer when it comes to the environmental benefits of solar energy is Edward Norton. The actor who plays The Hulk has been a major fighter when it comes to renewable energy. Norton has starred in films such as The Bourne Legacy, The Dictator, The Illusionist, Keeping the Faith, and the Italian Job.
Back in 2004 the actor joined the BP and created the Solar Neighbors Program in 2004. While researching solar panel installations for his own home, Norton came up with the idea to create the Solar Neighbors Program. While researching solar panels for his California home, he realized that he would make an even bigger change if he wasn't the only one that was benefiting from a solar power system. The program donates a solar power system that donates a solar power system to a low-income family for every celebrity that buys a solar panel installation for their own homes. Norton uses solar power and other sources of renewable for his own home, to reduce his carbon footprint.
Julia Roberts
Julia Roberts is a fan favorite when it comes to celebrities. She has starred in classics like Steel Magnolia's, Pretty Woman, My Best Friend's Wedding, Runaway Bride, Ocean's Eleven and Twelve and Eat Pray Love are just a few of her notable roles. What may be even more notable than her major roles is her environmental awareness. Roberts completed a massive renovation to her Malibu dream house to make it even more environmentally friendly. The home has three rooftop surfaces that are covered in solar panels. She was well aware of the environmental benefits of solar energy when getting a solar panel installation. As if Robert's wasn't easy to like before finding out how environmentally conscious she was.
Rachel McAdams
McAdams is most known for her role in The Notebook but has starred in Mean Girls, Wedding Crashers, The Time Traveler's Wife, Sherlock Holmes, The Vow, and her latest being the Netflix Original Eurovision. The well-liked actress is known for going above and beyond to reduce her carbon footprint. When her appliances aren't being used, she unplugs them, she drives an electrical car and her home is powered with solar energy.