Spring is right around the corner. Well, technically spring is a month and a half away. But it's close enough to start thinking about solar panels and all of the benefits that a solar panel installation can bring you in the spring.
Most homeowners choose to get repairs done on their roofs or replace the entire roof in the spring. The roof repair or replacement is the best time for solar panel installation because you won't have to worry about your solar panels outlasting your roof.
Springtime is the perfect time to think about home improvement projects, and going solar is an easy way to improve your utility bill.
Reasons to Get a Solar Panel Installation This Spring

Get a Solar Power System in Time For the Peak Solar Energy Production Months
If everyone buys solar panels at the same time, it's going to present some delays. Spring is your chance to beat the rush.
Everyone knows that the summer days are warmer and longer, which makes them ideal for solar power production. Calling the solar installers in the spring is a way to ensure that your solar panel installation will be installed for the peak production months.
The longest day of the year is June 21st The Spring Equinox! This means that the days are going to be longer and will remain long into the summertime and fall. Peak production months are the months with the most amount of peak sunlight hours. A peak sun hour is defined as an hour of sunlight that offers 1,000 watts of power per square meter on the solar panels. These peak houses occur when the sun is highest in the sky. The number of peak sun hours increase during the summer months.
Bank Your Excess Energy Credits
Many United States residents are also going to have the opportunity to earn solar energy credits from their utility provider for any extra solar energy that their solar power system produces. During the cooler months, a lot of solar power systems are going to generate more solar power than the residents use. Utility companies are going to credit these homeowners for the excess solar energy, allowing them to use the credits during the hotter summer months. If you want to be ready for summer, you should have your solar panel installation operational in the spring this way you will have solar energy credits to draw from later.
The Cost-Effectiveness
Solar panel installation can be an investment. But, solar energy tax credits and tax deductions can help offset the cost of solar. Having to buy less energy from your power company will save enough money to eventually offset the entire cost of solar panels. If you live in an area that gets a lot of sun, you may even generate enough energy to sell some back the grid!
Get the Paperwork Over With
Solar panel installations are a little more complicated than installing a new central AC unit's more important to allow time for the whole solar panel installation process. From the whole permitting process with the utility company to the local municipality, the solar installer is going to process a lot of paperwork before your solar power system can go live. Most people are going to wait for responses from energy retailers and utility companies, this process can take a little while. It's important to start planning early.
Shorter Solar Panel Installation Wait Times
As more and more homeowners install solar power systems, solar installers get busier. Waiting until summer may lead to longer wait times. Inclement weather, like monsoons, or excessively hot temperatures can also dramatically extend the solar panel installations timeline. Scheduling a solar panel installation in spring is the best way to avoid packed summer schedules or unwelcome surprise form weather switches. Installing a solar power system in the spring offers the best chance of being ready for summer.
A quality solar installer can help guide you through the purchasing solar panels and the solar panel installation process, but even with professional assistance, the entire journey can take a few months from start to finish. Getting started early is the best way to be sure that you are ready for summer while heading off any utility rate changes that will typically pop up as we approach the hottest time of year.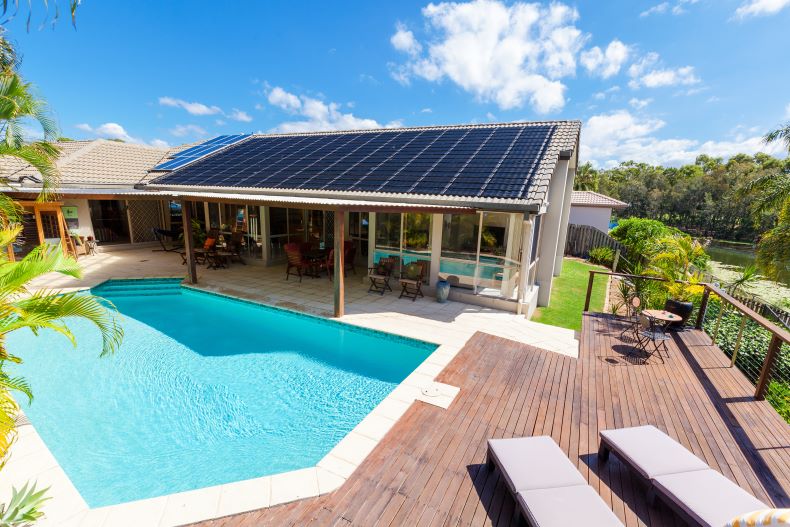 .Enjoy the Summer
If you want to enjoy the summer and not have to worry about choosing a solar installer, you should get a solar panel installation in the spring. The summertime is for relaxing, spending time with your family, and not having to worry about doing any additional work. You aren't going to want to be spending hours researching solar installers or on the phone with your utility company. Choosing your solar installer now guarantees that you won't have to spend relaxing summer days researching.
Solar Incentives
2020 is the only year for the 26% federal solar tax credit. It will decrease to 22% in 2021 before disappearing entirely for residential customers by December 31, 2021. Also, state solar incentives are ramping down. Keep in mind, your solar power system has to be installed and commissioned by your local power utility to qualify for these lucrative tax credits.
Who is Eligible for the 30% Federal Tax Credit?
- Individuals for-profit businesses in the U.S.
- Those that pay federal taxes.
- Those who have purchased a new solar power system and placed it in service to 2020.
What Costs Are Eligible?
- Solar panels.
- Racking/mounting equipment.
- Balance of system (wire, conduit, junction boxes, etc.).
- Solar panel installation labor.
- Sales and use taxes.