Seven Solar Energy Stocking Stuffers
With Christmas soon approaching, there are many gifts that you can give that incorporate solar power. There are tents the come equipped with solar-powered systems, solar power backpacks, solar energy trail cameras and much more. But what about solar energy stocking stuffers? Here are seven solar energy products that you can stuff stockings with this Christmas.
Solar Energy Bike Lock
This is a practical and environmentally conscious option. If you have a family member who uses their bike as a mode of transportation, this is the perfect stocking stuffer. The Skylock Solar-Powered Bike Lock takes things to the next level. This solar-powered system connects to your phone and provides users with keyless entry, theft detection, crash alert and more. Don't worry if you live in an area that doesn't get much sun, this solar energy device only needs 12 hours of sunlight to fuel the lock for six months.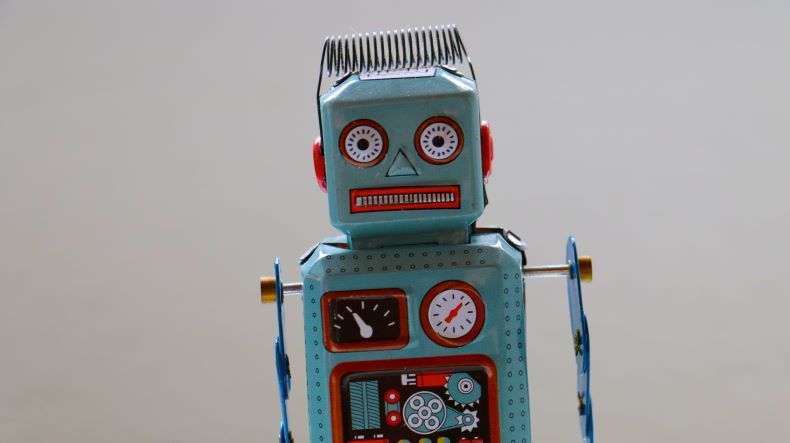 OWI 14-in-1 Solar Robot
When you're a parent, there can be a lot of pressure to buy your child the perfect Christmas present, not to mention finding the coolest stocking stuffers. The OWI 14-in-1 Solar Energy Robot is the perfect solution to this problem. This solar-powered system is awesome because if a child gets bored they can just transform Mr. Robot into something else. The child will have the option to transform the solar-powered system into 14 different shapes - which includes a dog, crab, car, and even a boat. The nifty device allows children to have fun while learning about how solar power can power a motor for hours!
Suaoki Solar Lantern
Have someone in your family that loves the outdoors? The Suaoki Solar Power Lantern is perfect for the outdoor lover. This is going to double as a water bottle and a solar power lamp! The solar-powered system is collapsible and only weighs seven ounces, perfect for stockings, music festivals, and hikes. It provides solar power while benefiting the environment by reducing carbon emissions.
WakaWaka Power + Solar Charger and Lights
If you have a smartphone, chances are you have been plagued by a dead battery, when you need your phone most! Say you want to go hiking and get some cool snapshots of the scenery (or you with the scenery behind you for Instagram, no need to be ashamed, we have all done it), and just when you take your phone out, it's dead. This device runs on solar energy to charge your phone (while doubling as a flashlight), this way you won't miss out on any photo opportunities due to a dead phone. The solar-powered system can fully recharge your cellphone's battery in about two hours. An added bonus, when you buy a WakaWaka Power + Solar charge and light, you will also give a solar power light to a family in need.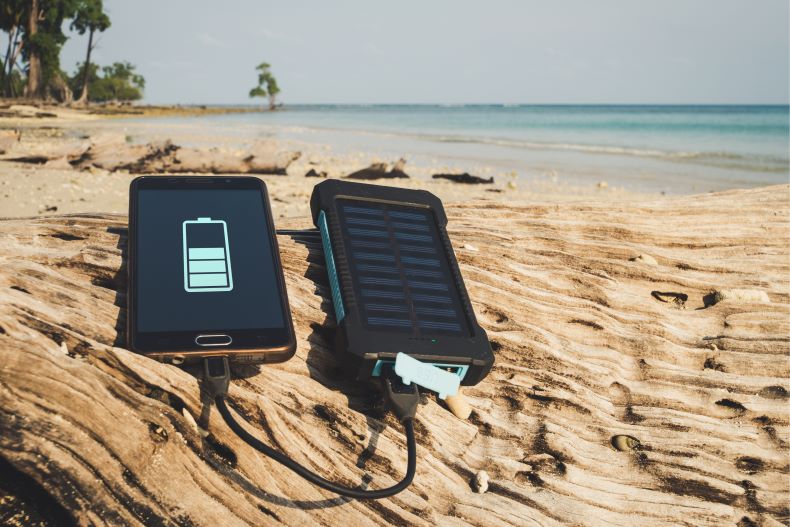 Creative Edge Solar-5 Solar Panel
The Creative Edge Solar-5 Solar Panel is a small portable charger, that comes equipped with a solar panel and is water, shock and dust resistant. Its 5,000 mAh battery can charge two devices simultaneously and has four indicator lights that will show the charge level. As the name indicates, you can charge this device by placing it under direct sunlight or by connecting it to a wall socket.
What catches a lot of people's attention is the device has two USB ports of 1A and 2A outputs, which allows you to charge devices that have different requirements. It also comes equipped with an emergency flashlight. This is a useful solar-powered system camping situation, which makes it the ideal stocking stuffer for the outdoorsmen, it benefits the environment by reducing carbon emissions while helping you use modern technology.
Notos 2.200 mAh Solar Power Charger
This as a very aesthetically pleasing solar-powered system. It's a compact, portable solar power bank with an aluminum ring (which enables it to be attached to windows for easy charging under the direct sunlight). You can also charge its battery using a USB connection to a computer or an adapter to a wall outlet.
This device has a battery with 2200 mAh capacity having 5V/1A output a 5V/1A input, which is enough for charging, most cellphones to two-thirds of their battery capacity. Using Notos, you can ensure the emergency power source is ready. This device is super small and will fit perfectly in a stocking.
Rock Out 2 - Solar Power Speaker
Rock Out 2 is a small portable speaker that has a solar panel attached so it can run on solar power. The solar-powered system is also weather-proof. It has an 800 mAh battery that can play music for 10 hours in a single solar power charge!
This solar-powered system is also is a one-touch Bluetooth speaker that pairs functionality offering a hands-free solution to connect the device to your cell phone. To charge it, you just place the device with a solar panel in the sun for 8 hours. You will also have the option to use the built-in cable to charge this speak form a laptop or a wall adapter, this will only take 2 hours.