As solar panel installations grow more and more popular, the more inventive installers are becoming when it comes to mounting solar-powered systems.
Three Types of Solar Mounts We are Thankful For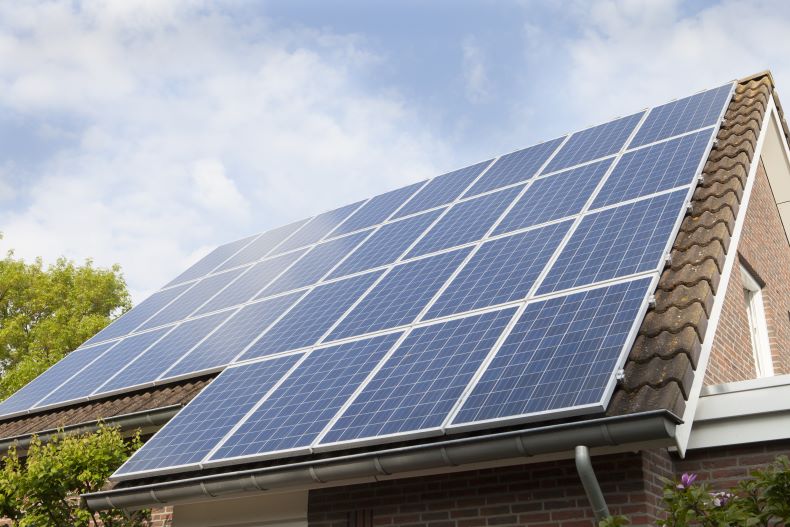 Rooftop Solar Panel Installations
Rooftop solar panel installations are going to be the most popular among residential solar panel installations. Because of their popularity, rooftop solar panel installations are going to have fewer issues with difficult wiring. The cost of a rooftop solar-powered system is also going to be cheaper. But, the condition of your roof may increase the price if you need to do repairs or replace it altogether. Solar panels can last anywhere from 25 to 40 years, so you will need to have a roof that can last as long as your solar panels. You aren't going to want to wait until after the solar panels are installed to fix and/or replace your roof, as uninstalling and re-installing the solar panels will increase the cost even more.
Rooftop Mounted Solar-Powered Systems Take Up Less Space
Because you won't have to sacrifice any part of your yard to install rooftop solar panels, they will take up less space. However, there's a catch, you aren't going to have nearly as much space for your solar panels. You are going to have to work within the limits of your rooftop.
Rooftop Solar Panels Can Be Placed on the Back of Your Roof
If you are worried about your rooftop solar panels ruining the aesthetics of your roof and are considering a ground mount solar panels, don't make that choice just yet! Rooftop solar panel installations can be placed on the back of your roof, which means that the same (or less) amount of people will see the rooftop solar panel installation as would see the ground-mount solar panel installation.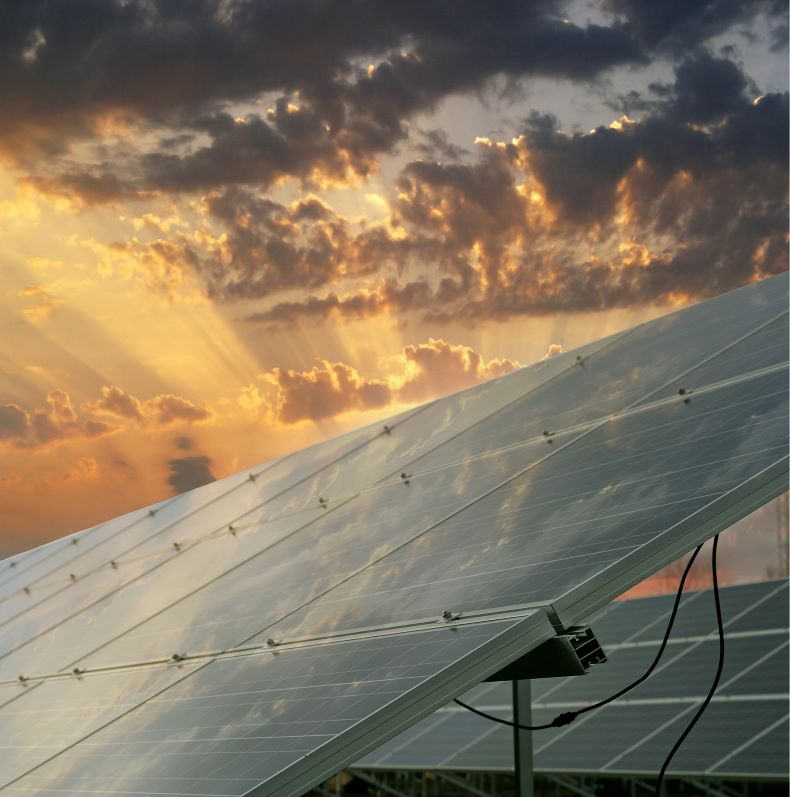 Ground Mount Solar Panels
In certain cases ground mount solar panel installations are going to be the best option, especially in the case of farms getting a solar panel installation.
Here are some reasons we are thankful for ground-mounted solar-powered systems in regards to farms going solar.
The Environmental Benefits of Solar Energy on Wildlife
Solar panel installations create an opportunity for avian interactions. Solar panels with photovoltaic cells, in general, are less reflective than windows and have been monitored for avian impacts at numerous airports. Nonetheless, most of the bird injuries and moralities occur through collisions with power lines, car fencing, and solar energy equipment and structures such as the solar panels. There are, however, some concerns that birds may confuse the solar panel installations for bodies of water and attempt to land on them, but this is not a proven fact. There is likely to be more of a collision risk to birds presented by infrastructure associated with energy developments, such as overhead power lines.
Solar panels require the use of electrical equipment, such as solar power inverters and connection boxes, which emit some noise. The frequency of most solar power inverters is 50-60 Hz, the same as AC electricity in your home or commercial building, which is within the range audible to humans and well below the higher frequencies that are used to repel animals. Sound is generally not audible at the edge of the fenced boundary, but if audible, the sound is very similar in volume to background noise and dissipates to inaudible 50-150 feet from the edge of the boundary.
Ground-Mount Solar Panels Help Native Vegetation
Ground-mount solar panel installations support native vegetation and pollinator habitat species. Low-height plants thrive under the solar panels, avoiding the need for mowing and keeping the solar panels unshaded. Two states have developed pollinator-friendly solar panel certifications to promote the planting of pollinator habitat under the utility-scale solar power projects. Pollinators' habitats can benefit local farms and they can also host beekeeping operations.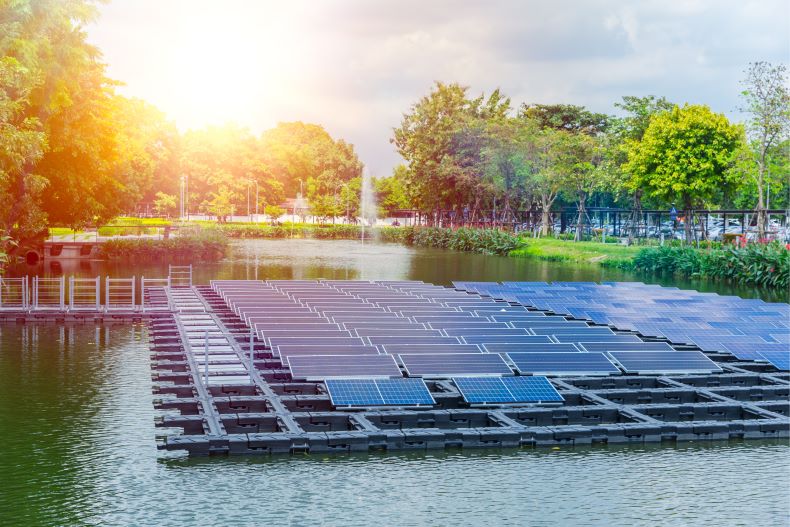 Floating Solar-Powered Systems
Floating solar panels are also known as floating photovoltaic (FPV), are any kind of solar panels that float on the water. Solar panels need to affix to a structure that will keep them above the surface. If you come across floating solar panel installations, it will most likely be located in a lake or a basin because the waters are generally calmer in the ocean. It is also common that floating solar panel installations will be located on large man-made bodies of water, such as reservoirs.
Floating solar panels are a relatively new concept. The first patent for the type of solar energy technology was registered in 2008. Since then, floating solar panels have predominately been installed in countries like China, Japan, and the U.K.
The Advantages of Floating Solar Panels
Floating solar panels aren't just a cool solar panel installation, there are a few advantages that come along with floating solar panel installations.
Environmental Benefits of Solar Energy
It is a known fact that there are some major environmental benefits of solar energy, and floating solar panels will play a role in contributing to the environmental benefits of solar energy. With floating solar panel installations, the water doesn't only have a cooling effect on the solar-powered systems it works the other way as well. The floating solar panel installation provides shade to the body of water and it reduces the evaporation from these ponds, reservoirs, and lakes. This is a particularly useful environmental benefit of solar energy in areas that are more susceptible to droughts, as water loss due to evaporation and can add up over time and contribute to a shortage.
The shade coming from the solar panels also helps reduce the presence of algae that blooms in freshwater. The algae can be a little dangerous for human health if they occur in a source of drinking, and it can also lead to the death of plants and animals that live in the water.
The floating solar panels are a clean source of renewable energy. The use of this source of renewable energy and others helps decrease greenhouse gas emissions and all of the other pollutants that they put into the atmosphere, leaving a positive impact on the environment and human health.
No Loss of Valuable Land Space
One of the biggest advantages when it comes to floating solar panels is the solar panel installation isn't going to require any land space. Most floating solar-powered systems can take unused space on bodies of water, such as hydroelectric dam reservoirs, wastewater treatment ponds, or drinking water reservoirs. This will allow the landowners to make use of an area that wouldn't otherwise be used. Also, installing solar panels in open water reduces the need for tree removal and forest clearing, which is a practice that is used in the case of larger solar panel installations.