The Best States and Cities for Solar Power in the United States
Solar energy in the United States is taking off. It is estimated that by the end of 2019, the solar power industry is going to surpass 2 million residential rooftop solar panel installations nationwide. But, like most promising industries, some states and cities are further along in the adoption of solar energy than others, and others are estimated to become leaders in the future years.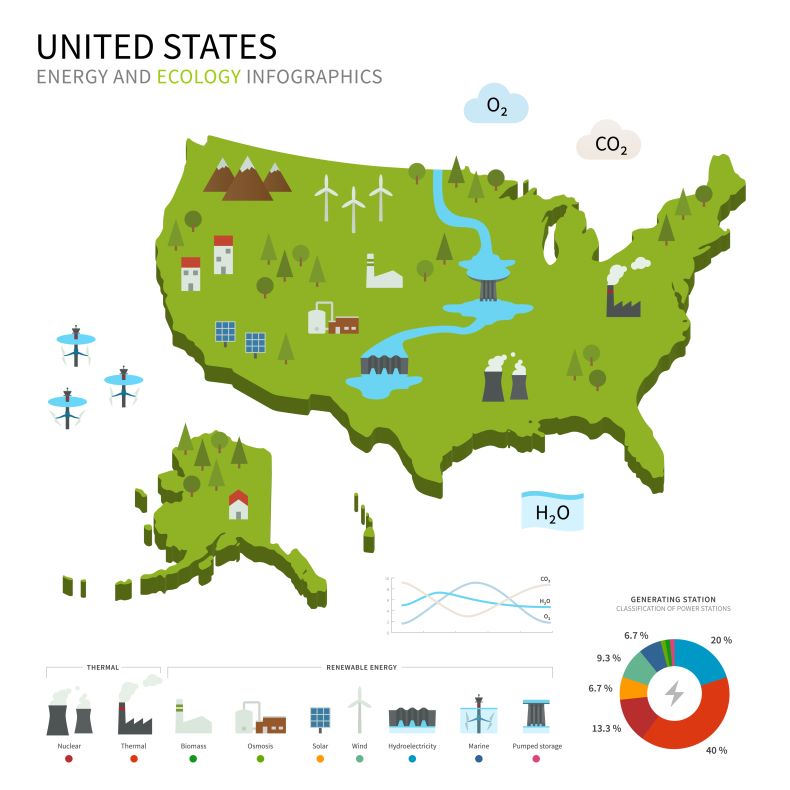 The Best States for Solar Power
There are a few ways to evaluate the best states for solar panels, we will focus on the payback period for solar panels installations, which is a metric that is going to track how many years it's going to take for a new solar energy system to recover from the initial costs of the solar panel installation. A shorter payback period is going to be influenced by the lower costs of solar panels, high electricity prices, or robust solar power programs and solar energy incentives. Nationwide, the average customer is going to have a payback period of just under 8 years for their solar panels. Listed below are the states with the lowest payback period:
South Carolina - 7.5 Year Payback Period
The Southeast experienced a large growth in solar power over the past year, largely driven by the arrival of major technology companies who have signed agreements to but solar electricity from large scale solar energy farms throughout the entire state. For the residential solar energy consumers in South Carolina, solar panel installations are going to break even in 7.5 years, as homeowners can take advantage of rebates from individual utilities and a state tax credit. The net metering set to be extended in the state, rooftop solar panel installations are poised to expand even more throughout South Carolina.
California - 5.9 Year Payback Period
California has been a national leader in solar power for a long time. Solar in California has five times as much solar energy capacity as the next closest state. With the new statewide policies that encourage even more solar energy adoption, like mandating all new houses get solar panel installations and a 100% clean energy law, California is set in place to continue to be a national leader.
Massachusetts - 5.5 Year Payback Period
Even though the state ended its highly successful SREC II program in 2018, Massachusetts solar power continues to provide some of the top solar energy incentives in the country. The combination of the state's residential solar energy tax credit and the performance-based solar incentives available under the new SMART program has led to perspective solar energy customers in Massachusetts to see payback periods of under six years.
New Jersey - 5.5 Year Payback Period
New Jersey solar power shares the mantle of the best solar energy economics with Massachusetts. The combination of the higher-than-average electricity rates and advantages solar renewable energy certificate (SREC) prices enable solar energy shoppers in New Jersey to have an average payback period of five and a half years.
The Best Cities for Solar Power
| | | | | |
| --- | --- | --- | --- | --- |
| Per Capita Rank | City | State | Solar PV Per Capita (Watts/Person) | Total Solar PV Installed (MW) |
| 1 | Honolulu | HI | 646.4 | 226.5 |
| 2 | San Diego | CA | 247.5 | 351.4 |
| 3 | San Jose | CA | 194.9 | 201.7 |
| 4 | Burlington | VT | 187.3 | 7.9 |
| 5 | Las Vegas | NV | 162.2 | 104.1 |
| 6 | Phoenix | AZ | 145.3 | 263.2 |
| 7 | Indianapolis | IN | 143.5 | 123.8 |
| 8 | Riverside | CA | 138.3 | 45.3 |
| 9 | Denver | CO | 129.6 | 91.4 |
| 10 | Albuquerque | NM | 128.9 | 72.0 |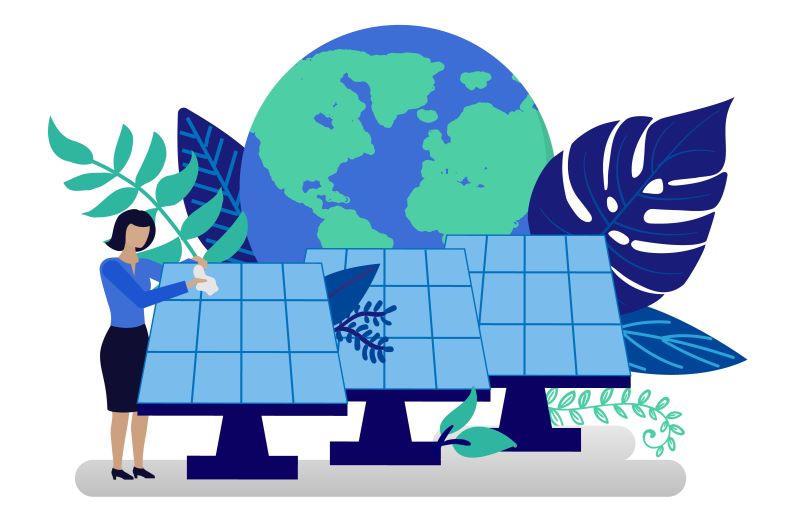 Where Solar Power is Growing the Fastest
Between the years 2017 and 2018, interest in solar power grew in every state in the US and more than double in eleven states. Below are that states with the fastest-growing solar energy interest in the last year:
New York
Since 2016, when New York released the Clean Energy Standard, which calls for meeting 50% of the state's electricity needs with renewable energy by 2030, the state has been on the track of rapid renewable growth. Over the past few years, a couple of key policy initiatives - Reforming the Energy Vision (NY REV) and the Value of Distributed Energy Resources (VDER)-have helped level the playing field and raise awareness of solar energy throughout New York.
Illinois
Illinois introduced the Adjustable Block Program to encourage the development of solar energy projects in 2017 was immediately flooded with applications to build solar panel installations from large scale solar energy developers in the state. The large jump in solar power interest in Illinois in 2018 indicates that solar energy awareness among residential homeowners is catching up to that of the large scale solar energy developers. With both the state and the city of Chicago announcing 100 percent sources of renewable energy goals, solar energy is ready to grow steadily for the foreseeable future.
Nevada
Nevada is a state that sees the third most sunny days out of any state in the entire country and has the fourth most megawatts of solar panels installed in-state. It's no surprise to see the interest in residential solar panel installations growing rapidly among residents of Nevada.
Virginia
The state with the largest year-over-year growth in solar power interest in Virginia. As climate and energy policy became a hot-button topic in the governor's race in the state, solar panels have grown more and more popular. It appears that the state is only getting started and is only expected to grow.