One of the best ways to enjoy family time is in the great outdoors, in the mountains, at the beach, or even in your backyard. There's something about spending time with loved ones in the outdoors that is something specials.
Some of the best memories that families and friends make is camping. Some people enjoy tent camping, while others prefer to sleep in a camper. But the good news is that no matter the method you choose you now have the option to choose, you have the option to use solar power.
There's RV's with solar-powered systems, generators that run on solar energy, different gadgets that you can bring camping that use solar-powered systems to operate and now there are even solar power tents.
Solar Power Tents
Tents that use solar power are super cool because they provide campers with the option to use power while in the tent, which tent camper's don't generally have. The solar power tents have lights and some of them even have power outlets that let you use solar energy to charge your gadgets.
Listed below are some of the best tents that have solar panels;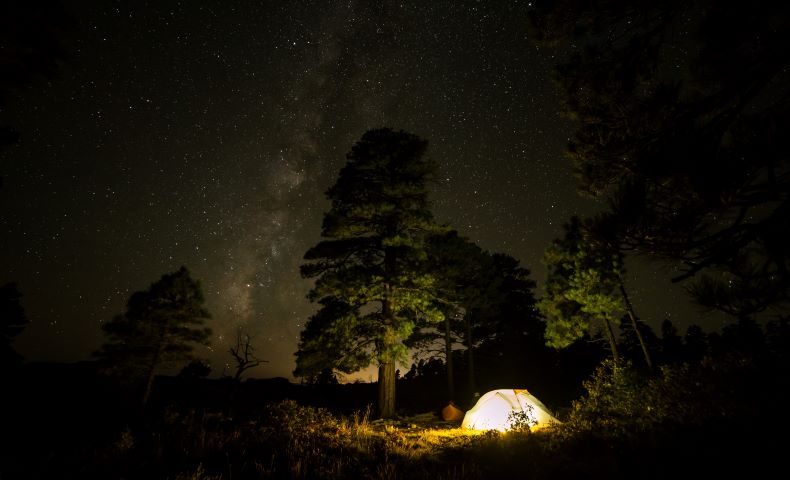 Solar Power Tents
Several tents come equipped with solar-powered systems. If you're looking to invest in a solar power tent for your next camping trip you will want to keep reading!
High-Quality Solar Power Tent
If you consider the Earth's most advanced pop-up tent, the High-Quality Solar Power Tent is going to change the way that you go camping. The unique thing about this tent is that it is made by campers for campers. It can withstand extreme weather and it serves as a great source of solar power to supply a charger for your mobile phone.
The solar power pack includes solar panels, data wire, lock, and power bank, The solar energy pack is going to keep your phone and USB gadgets charged, thanks to the solar panels that sit on the roof of the tent and even generates solar electricity in indirect sunlight.
The Design
When the tent is folded, it is in the form of a disc-shaped rucksack. It measures from 70 to 90 centimeters in diameter and weighs from 5 to 9 kilograms, all depending on the capacity of the tent (how many people can fit in the tent).
The tent is fully waterproof with 4000HH fabric, that is designed with comfortable and spacious living areas, making it perfect for hiking, backpacking and camping trip.
The Features
This is the biggest pop-up tent on the market, the High-Quality Solar Power Tent is still equipped with all of the features of a top-tier dome tent, with the added features of solar panels, so that you can utilize solar energy.
The solar energy pack is quite nifty, with a 13,000 mAh LCD solar power bank that can fully charge iPhone size times with enough solar electricity storage. The solar panels are made from a flexible silicon-based material that has a waterproof junction box that can be left outside and withstand all of the weather conditions. It also provides enough solar power for two LED torches and LED pegs that are placed outside.
The Results
The High-Quality Solar Power Tent is one of the coolest, top-rated tents with solar-powered systems on the markets for campers. It has impressive features and specifications, most campers find that this tent equipped with solar power is well worth the price.
The solar power tent is designed for durability, convenience, and rugged weather conditions, campers can't go wrong with your this tent.
Eureka 3-Season Solar InTent
If you're looking for a tent with solar power with its electric illumination, then the Eureka 3-Season Solar InTent is the right fit for you. The product has amazing portability and is very spacious.
The solar power tent has inherited a lot from Eureka's military tent development experience and it has some very impressive features.
The solar power tent has highly mechanical resistant materials on the tents walls, floor, and flies that come with StormShield technology, this tent is well-engineered.
The solar energy equipment comes with the tent and the solar panels are meant to be positioned at the top of the tent and can receive eight hours of sunlight for an equal amount of LED illumination of the interior using a special lantern that was developed for military purposes.
The Design
The tent with the solar-powered system was designed to be virtually indestructible, as the military tents that have solar panels are. This dome tent can accommodate 4 to 6 people and has a highly resistant fly that is designed to cater for when the window is open.
The Features
The solar power tent has a fiberglass frame that is easy to set up. It has a ring assembly, shock-corded poles, there's 800 millimeters 75-denier polyester taffeta walls and a bathtub-style floor, the design protects you from the different weather elements. The tent is made up of 3 different vents, 1window and it has 50-denier, mesh, bug-free breathable comfort, 4 gear loft loops, 1 flashlight loop, 2 storage pockets and a LED light that uses 3 AAA batteries that are included.
The Results
Like other solar power tents, the Eureka 3-Season tents are extremely popular and if you're in the market to buy a new tent this durable tent is great for camping trips with family and friends. It is easily assembled, durable, lightweight and splash-proof.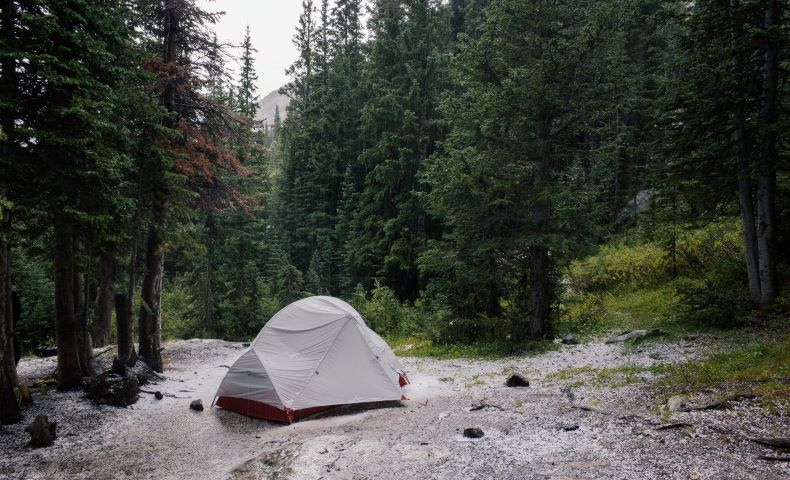 Things to Consider When Buying a Solar Power Tent
Camping can be a very enjoyable activity. You can enjoy the beauty of nature while bonding with your family and friends. But to fully enjoy the great outdoors, you are going to have to sleep in the great outdoors, and you are going to want to be as comfortable as possible while doing so. You are going to want to ensure that there's enough space to accommodate you and those camping with you. Another thing to consider is the weather compatibility if a downpour happens you are going to want to stay dry. Once you decide on which solar power tent all that's left is to decide where you're going to take it.