Burning Man is here, bringing with it tens of thousands of people to Nevada's Black Rock Desert. Each year, Black Rock City is erected from the dust, a radically inclusive, unique creative space dedicated to community, art, self-expression, and self-reliance.
Among the artists and free spirits at this pop-up community, you'll also find clean energy entrepreneurs looking for new ways to power the event - and the world at large - with carbon-neutral, eco-friendly solutions. This includes some of the most fascinating uses of solar technology around, from event organizers looking to energize the camp in a green way, to artists looking to take advantage of the sun's free energy to create something new and great that can be enjoyed by all.
Some of the past uses of solar at the event have included solar-powered base camps and charging stations, along with a solar diner, solar mobile DJ booth, and solar-powered art installations.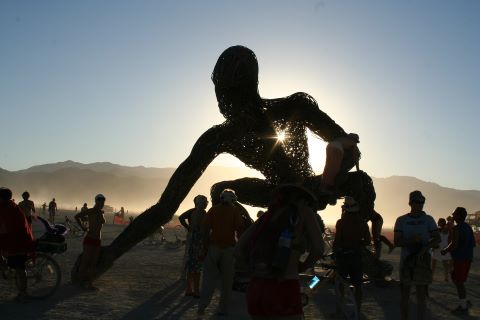 History of Burning Man
Burning Man started in 1986 when a group of guys burned an 8-foot wooden man on Baker Beach in San Francisco as part of a bonfire ritual on the summer solstice. Its inspiration stems from a spontaneous act of radical self-expression.
Since then, the Burning Man has grown to be over 40 feet tall, with thousands of people converging each year from all over to attend.
Burning Man and Solar Power: Two Birds of a Feather
Burning Man's core cultural principles include radical inclusion, gifting and decommodification (getting away from the idea of buying things), radical self-reliance and self-expression, communal effort, civic responsibility, leaving no trace, participation, and immediacy.
Burning Man makes the perfect incubator for solar technology, as solar embodies many of the same principles, including:
- Self-reliance - reduces dependence on big energy and utility companies, allows you to go off-grid and support yourself.
- Communal Effort - The sun's energy is free and should be available to everyone. Community solar projects allow everyone to take advantage of solar benefits, and solar helps communities by making them more energy resilient. Solar also contributes to the community by making the world a greener place to live.
- Leave No Trace - Solar is carbon-free during the life of the system, which means you can reduce or eliminate your carbon footprint and leave the earth as your found it.
- Civic Responsibility - Solar contributes to the welfare of society as a whole, contributing to increased health, energy resiliency, local economies, and more.
- Participation - by adopting solar, you are participating in making a difference for the future of the earth, rather than sitting idly by and letting climate change progress.
It's no surprise then that many camps choose to incorporate solar panels and chargers into their temporary communities and art installations. Even Burning Man as a whole has adopted solar to power base camp, starting in 2007 with "The Green Man."
Burning Man's Own Solar Nonprofit
One key solar player at Burning Man is Black Rock Labs, originally known as Black Rock Solar, a nonprofit organization born out of the 2007 "Green Man" event. The group got its start by creating a 30-KW solar installation shaped like the Native American Zia sun symbol to power the 2007 Man base, which was then donated to a local school and general hospital.
Now they help disadvantaged communities install solar at an affordable price, bringing cheap or free energy to those who need it most. Each year, they return to the desert to help facilitate solar powered projects and art installations and electrify Burning Man in a sustainable way.
Black Rock Solar has built 112 solar installations for 7.4 MW of power, and cut 6,500 tons of CO2 emissions per year, with over $800,000 saved in electricity costs.
The company rebranded as Black Rock Labs in 2017 to expand its services to include "scalable solutions for energy, habitat, water, food, creative reuse, infrastructure, transportation, communications, ecology, and all facets of living and experience that is Burning Man" in addition to its original solar focus.
Leaving no trace
One of Black Rock Labs' more recent focuses has been "leaving no trace" by either eliminating or offsetting the carbon footprint of the event. Since 2017, they have instituted a Carbon Offset Program, which aims to offset the 1,400-lb carbon footprint that each attendee of the event has on average. They will install efficient cookstoves in Zambian households to generate an equivalent amount of CO2 emissions reductions.
2019: the largest solar deployment yet
This year, at the 2019 Burning Man event, Black Rock Labs has launched its biggest solar deployment yet, with the help of several clean tech startups, including Vancouver-based Portable Electric, which has provided solar battery generators to support art and music provided by camps.
Portable Electric founder Mark Rabin hopes that Burning Man will create a model for deployment on a wider scale, including use in disaster relief and refugee camps, as well as helping the world transition away from fossil fuels.
Snow Koan Solar
In addition to Black Rock Labs, another long-time fixture of Burning Man is camp Snow Koan Solar, which brings a large solar array to the playa each year to allow Burners to charge their devices, large or small. Burners can also enjoy a sun-powered snow cone while they wait. How's that for a bright idea?
A Testing Ground for Future Technology
While some see Burning man as an excuse to wear silly costumes, run around in the dust, and spend a week partying, it's also a place where people can make something from nothing, quite literally. Artists and innovators from around the world gather to share, give, and contribute their ideas for the greater good of the entire community. As such, it's the perfect testing ground for new technologies to emerge and take root in the world at large.
Many people go to Burning Man, and come away with practical applications for the real world. Like Black Rock Solar, one art installation can turn into an entire nonprofit dedicated to bring solar energy to the communities everywhere.
From one spark, a fire can be lit, bringing light to all. All it takes is some radical belief in ourselves and our future.
Become part of the cultural movement
Install solar panels at home today and see how much good you can do for yourself and your community.
Use the HahaSmart Price Checker to find the best quotes in your area. Then design your solar array using the HahaSmart DIY Design Tool.