With new advances in smartphone and tablet technology coming out all the time, it seems like there's an app for just about everything under the sun. Including things that are literally under the sun - like solar panels.
Once you install solar panels on your roof, most solar systems come with software to allow you to monitor the performance of your system. After all, you want to see how much energy - and, more importantly, savings on energy bills - you are producing each month.
There are also plenty of apps available to help you analyze the benefits before going solar, and install panels at the best angle.
Let's take a look at some of the top systems and apps available today.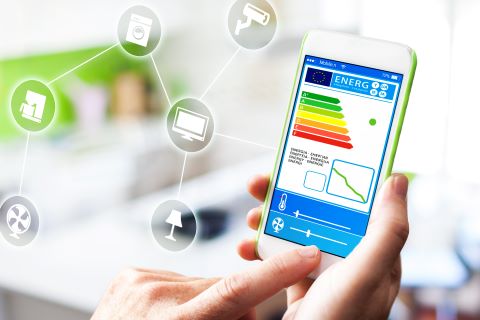 Before You Install - Evaluation & Positioning Apps
Solar Evaluation Apps
There are plenty of apps to help you evaulate whether or not going solar is a good idea for you. Just put in your location, utility usage and price, and solar system size, and you can get a proposal that works for you. One of the best is Solar Checker by inverter company SMA Solar Technology.
However, why install an app, when you can get easy pricing right here and now?
Check out the HahaSmart Price Checker for four instant quotes on going solar in your location. Find financing and installers that fit your budget. And get only products from trusted, Top Tier solar companies.
You can also design your own system using the HahaSmart DIY Design Tool to see how panels would fit on your roof.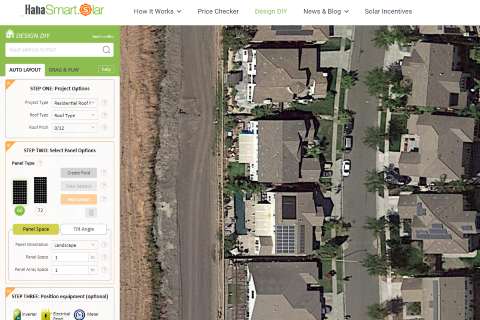 Enter your address for a bird's eye view of your home, then use the tool to map out the size and placement of your panels in real time.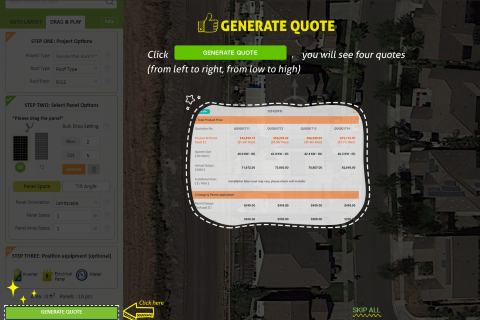 Solar Panel Positioners
Once you have purchased panels, you'll need to find the right positioning for them. There are plenty of apps to help with that as well.
Turn your phone into a solar panel calibrator with this nifty Solar Tracker app. Just place your phone on top of the solar panel, and the app can help you find the perfect orientation and tilt to make the most of the sun's rays in your location.
You can also use this app for portable solar tech - for example, if you go camping and want optimal charge from your solar charger or power bank, you can just use the app to get the perfect angle, every time.
While not specifically designed for solar panels, the Lumos: Sun and Moon Tracker can be useful for those looking to install solar. It helps you find the optimal positioning based on your location in relation to the sun. Use virtual reality to predict the sun's movement based on the time and location you enter.
You can also calculate shadow length for various objects during different seasons and times of day. Which is super helpful when you want to know whether or not that tree in your backyard will block your solar panels in the winter.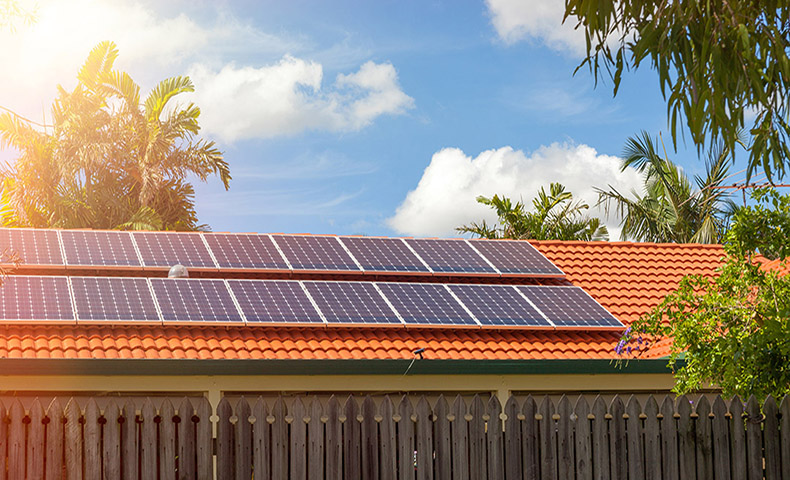 After You Install: Solar Monitoring Apps
Many solar monitoring apps are included with your solar system's inverter. Inverter companies often have their own software to provide information about your energy production, which can sometimes be accessed through apps.
Here are some of the options available from top inverter companies.
Microinverters
Enphase MyEnlighten App
If you get an Enphase microinverter, it'll come with the Enphase Enlighten Mobile App monitoring software. You can check your system's performance and per-panel production, wherever you are. You can also get information on your energy consumption and storage (if you opted for solar + storage) to see how much you are saving. Share your energy data with friends and family to make your neighbors jealous of your solar system.
APsystems EMA App
Enphase's main competitor in the microinverter space, APsystems, offers its customers access to the Energy Monitoring & Analysis (EMA) App to track solar array performance in real time. See output by day, month, year, or lifetime and calculate energy savings. You can also see environmental savings in gallons of gas, trees planted, and carbon emissions.
String inverters
SolarEdge Monitoring Platform
For string inverters, SolarEdge is one of the best options there is, and it comes with the SolarEdge Monitoring Platform. Monitor PV performance and detect faults at module, string, and system levels, all in the palm of your hand.
Fronius Solar.web App
Another popular string inverter company, Fronius inverters come with an app to monitor real-time and archived performance data, energy consumption with the Fronius Smart Meter, and more.
SMA Sunny Portal
SMA, another popular string inverter, offers homeowners access to the Sunny Portal to track energy production and troubleshoot problems.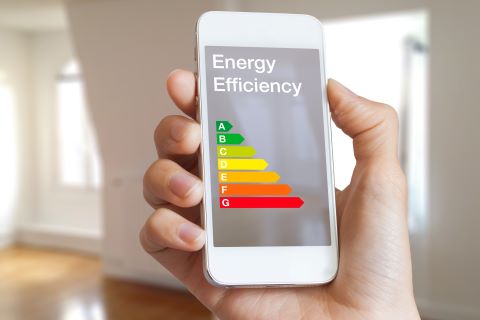 Solar Storage Monitoring
If you opt to install a solar battery with your system, you can also track energy stored. As noted above, the Enphase MyEnlighten app allows you to track storage.
Tesla, a leading home solar battery storage provider, also offers a mobile app to allow its Powerwall customers to interact with their home battery storage system.
The "Power Flow" screen gives you a view of household energy storage and consumption. You can change the settings of your Powerwall to meet your energy needs, whether self-powered, backup-only, or time-based control. The app also offers notifications to alert you in case of a power outage.
Take control of your home's energy production with solar technology
Whether you are iPhone or Android, micro or string inverter, you can can make the most of all that solar technology has to offer and manage your solar system from start to finish.
Ready to go solar? Sign up today.