Corporate Solar Set to Boom
Without a US federal mandate to decarbonize the power grid, Fortune 1000 companies are taking the lead to address climate change by going solar.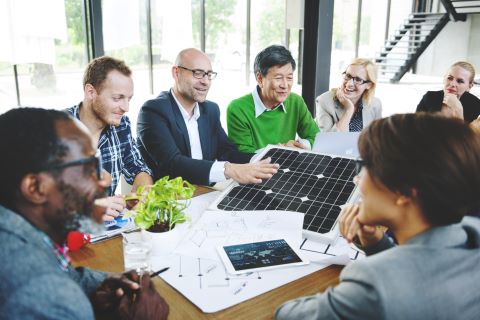 A new Wood Mackenzie report finds that C&I (commercial and industrial) renewable energy procurement is growing rapidly and set to explode in the coming years. While penetration of renewable energies in Fortune 1000 companies is currently only 5%, there is up to 85 GW of demand available through 2030, marking the enormous potential for the market to boom.
2018 Sees Record Procurement of Renewables
According to the report, 2018 saw corporations contracting more than 6 GW of power purchase agreements (PPAs), setting a new record.
Corporate demand for renewable energy like wind and solar power is growing, as supported by the SEIA's July 2019 Solar Means Business Report, which shows record-breaking amounts of solar procurement in 2018, with Apple, Amazon, and Target leading the way. Wood Mackenzie's analysis shows Facebook, Google, and Amazon leading the way in combined renewable energy procurement of wind and solar.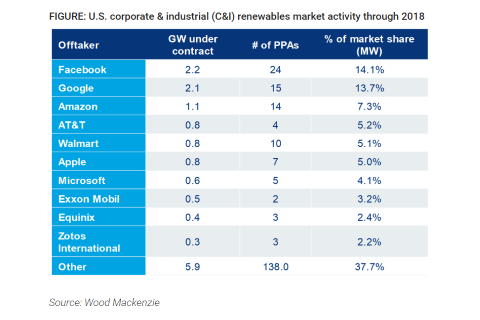 This trend is set to continue, with nearly 1200 terawatt-hours of non-renewable power demand for the top corporations alone, an enormous opportunity for solar installations in the market.
Factors Driving Procurement
There are several reasons for the recent uptick in corporate solar and wind procurement. Here are some of the top driving factors in the market:
1. Climate Change
Despite the lack of national clean energy goals, more and more states, cities, and counties are making their own goals to go carbon-free, recognizing the urgent need to curb climate change. Many corporations are jumping on this trend, committing to get some or all of their energy from clean, renewable sources in the future. They recognize the influence they can have on driving change, and are taking steps to lead the green movement.
2. Competitive Costs
A continued decline in solar costs combined with available incentives like investment tax credits are making solar projects more attractive for corporations, as they stand to save on going green. In addition, they can expect attractive returns on their investment as their solar panels generate energy and save on electricity costs over the lifetime of the solar systems. Dropping prices for solar storage may also make solar more attractive in the future, as it will help to smooth out variations in energy production.
3. Peer Pressure & Consumer Demand
With the biggest companies like Amazon and Apple adopting renewable energy at a break-neck pace, other companies are beginning to make the shift to solar as well in order to compete. With consumers becoming more environmentally conscious, and changing their shopping habits accordingly, companies are feeling increased pressure to adopt more green initiatives. After all, they don't want to be the only ones left buying dirty energy in the new world where clean, renewable power is king.
Factors That May Limit Procurement
While the stage is mostly set for growth, there are some obstacles that could potentially slow renewable energy procurement, most of which are legislative in nature. Without policies supporting renewable energy sector growth, it may be difficult to harness the full potential of corporate solar.
Key obstacles include:
1. US Solar Tariffs
While the market has weathered the Trump administrations tariffs on solar panels and other equipment thus far, continuations of these prohibitive policies could hamper progress and cause market share losses in the future.
2. ITC Phase-Out
If the Solar Investment Tax Credit phase-out goes ahead as planned, it could hurt solar companies in the long-run. A bill has been introduced to extend the ITC, with widespread support from over 1,000 solar companies and stakeholders, but it remains to be seen if this will be passed before the end of the year.
3. Lack of Standardized Contacts for PPAs, High Interest
Without standardized contracts, PPA negotiations can be costly, prohibiting procurement of solar enegy projects.
Smaller companies may also face higher interest rates - especially for solar plus storage - because of their higher credit risk. A reduction in financing costs could help increase the number of companies adopting solar.
Solar Policies: The Key to Success
The key takeaway is that we need to vote for measures that extend solar incentives, reduce operations costs, and promote movement towards clean energy goals. This will create the right atmosphere for a solar business boom.
But even without such policies, demand for solar is growing every day, and we predict that we will continue to see growth, no matter what happens in the next few years.
Make it your business to go solar today
Check pricing with the HahaSmart Price Checker, and get great Incentives for additional savings.