A new climate report published by the American Meteorological Society and compiled by the US government, with data from over 470 scientists in 60 countries, shows greenhouse-gas emissions and sea levels reaching record-breaking levels last year, 2018 being the fourth warmest year on record, with only the previous three consecutive years being hotter.
The latest climate change report shows a dire need for change
The findings demonstrate an increasingly urgent need to switch to clean, renewable energy sources like solar to cut carbon emissions, if we are to build a sustainable future.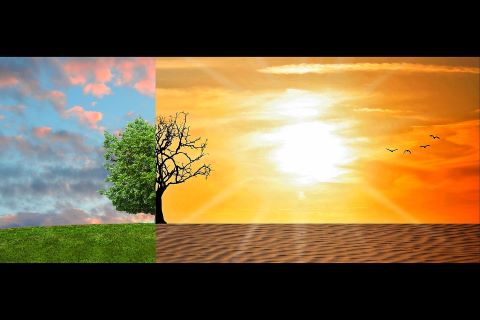 Greenhouse Gases at All-Time High
Out of 60 years of modern measuring and over 800,000 years of ice core data, 2018 greenhouse gas levels top the charts with never-before-seen levels of CO2 and other gases in the atmosphere trapping heat.
CO2 rose to 407.4 ppm, 2.4 ppm higher than 2017. The warming affect of gases is nearly 43% stronger than it was in 1990, showing the devastating swiftness of climate change if we do not take action to curb it now.
Sea Levels Highest on Record, Ice Continues to Melt
The National Oceanic and Atmospheric Administration said that the report includes all the major indicators of climate change.
Sea levels rose to the highest on record, with surface temperatures also near record highs. Sea ice was near a record low, with glaciers continuing to melt.
Record High Temperatures, Extreme Weather Events
Europe has its second warmest year since 1950. Mexico and Australia saw the third warmest year on record. Other countries that set or came close to record temps include Bosnia, Herzegovina, Croatia, France, Greece, Serbia, Italy, and Sweden.
Heat, Drought, Fire
Lithuania and Latvia declared states of emergency for severe heat and drought. Australia reported expanding drought and fires. Sweden and Greece saw unprecendented wildfires as well. Stockholm, Sweden saw its highest ever monthly temperature of 22.5C in July, and France saw a heatwave that pushed temperatures up to 40C (104F).
Wildfires are also growing in size in the US and the Arctic, despite having a low fire year in 2018, as a result of burned lands being turned into farmland.
Storms Intensify
Hawaii got record rainfall over a 24-hour period, and India set a new world record for 3-day rainfall. South America saw seven extreme snowfall events.
Hurricanes and typhoons are increasing in intensity and frequency, with a record number of Category 5 storms in the tropics (11 total).
Typhoon Mangkhut killed 160 and caused $6 billion in damage in the North Pacific. Tropical storm Son-Tinh killed 170 in Vietnam and Laos. Hurricane Michael, the 4th largest storm to hit the continental US, caused $15-20 billion in damage and killed more than 30 people.
How Solar Energy Can Help
In the United States, almost a third of carbon emissions causing global warming stem from our electricity generation. Dirty energy sources like fossil fuels, natural gas, and coal are the leading cause of greenhouse gases contributing to our climate change crisis.
The best way to stop climate change in its tracks is to switch to clean, renewable energy sources like solar and wind as quickly as possible. One of the best sources of renewable energy with the most potential for growth is solar energy.
Emissions-free
Aside from the manufacturing process, solar panels are completely emissions-free, and they can be installed on any roof, field, or surface facing the sun.
Cost-effective
Solar panels pay for themselves in energy cost savings over the lifetime of the system, making them an economically beneficial option. The cost of solar panels and related solar equipment continues to drop with more technological innovation, making it easy to implement on a large scale.
Beneficial to communities and economies
Solar helps communities to thrive by boosting local economies and bringing solar jobs. It reduces strain on the electric grid, reducing fire risk, providing backup power, and increasing resiliency of our entire energy system.
Solar has even been shown to help crops grow and encourage wildwife to thrive. So not only are panels environmentally friendly by reducing carbon emissions, they help the environment in more immediate, synergistic ways as well.
As states set their goals to switch to clean or renewable energy by 2050, solar will play an increasing role in helping recover our planet and create a sustainable future for all.
Ready to make the switch to renewables at home?
Saving the environment with solar is as easy as 1, 2, 3, 4.
Design your green rooftop solar array using the HahaSmart DIY Design Tool.
Then use the HahaSmart Price Checker to get affordable installation quotes that work for your budget.