Solar PV Jobs
The 2019 Renewable Energy and Jobs Annual Review from the International Renewable Energy Agency (IRENA) shows that solar photovoltaic jobs are vastly outpacing other renewable energy sectors worldwide for employment, including liquid biofuels, hydro, and wind.
Across the globe, over 11 million people worked in renewable energy in 2018, an increase of 700,000 jobs from 2017. China, the US and the European Union have the greatest concentration in renewable jobs, while Asian countries are emerging as exporters of solar PV panels.
According to the report, solar PV jobs made up a full third of the sector's workforce, with Asia hosting over 3 million jobs, 9/10 of the global total. Latin America also saw an increase in regional PV demand.
Here's a closer look at the breakdown of renewable energy jobs worldwide for 2018.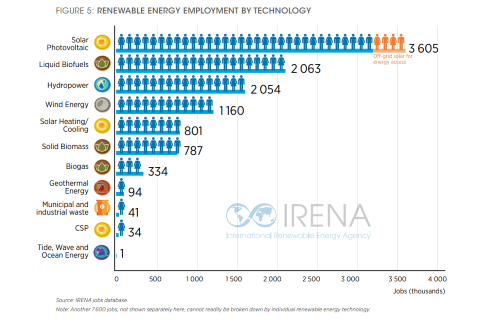 #1: Solar PV- 3.61 Million Jobs
Leading the way in renewable energy jobs is solar PV, with 3.61 million people employed in 2018. While employment numbers fell in China, Japan, Europe and the US, India, Southeast Asia and Brazil saw increases.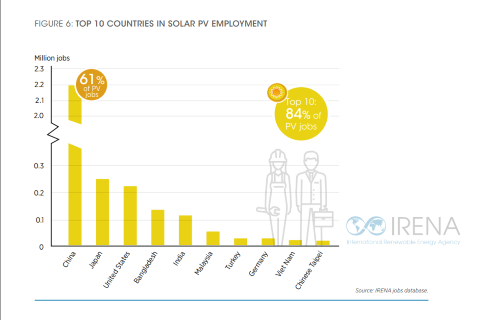 Manufacturing capacity has shifted to Asia, with 92% and 85% of global and module capacities, respectively. The US, India and Europe rely heavily on solar imports.
Globally, 94 gigawatts of solar capacity was installed in 2018, with China, India, US, and Japan the most important installation markets.
Rising adoption of off-grid solar is growing the number of jobs in previously isolated communities, like Africa.
US Solar 2018
The United states has 242,000 solar jobs in 2018, second only to biofuels with 311,000 jobs. Two-thirds of the solar jobs are installation and project development (mostly residential), with manufacturing accouting for 14%.
Uncertainty surrounding the tariff policy under President Trump delayed several utility-scale projects, and some state-level activity in California and Massachusetts dampened activity. New projects surged once the tariff uncertainty was lifted. China's decision to cut domestic solar incentives reduced global demand and lowered solar prices worldwide, counteracting the effect of the tariffs.
#2: Bioenergy - 2.06 Million Jobs
IRENA found that liquid biofuel jobs increased 6%, with Brazil as the largest employer with 832,000 jobs. Liquid biofuels include ethanol and biodiesel produced from plant materials, vegetable oils and animal fats.
#3: Hydropower - 2.05 Million Jobs
According to IRENA, over 70% of hydro jobs were operations and maintenance, with construction and installation making up 23%. The International Energy Agency lists hydropower as the world's biggest renewable energy source, with over 1,200 gigawatts installed capacity.
#4: Wind - 1.16 Million Jobs
In fourth is wind, with China, Germany and the US taking the lead and making up 44% of the over 1.1 million jobs in wind energy.
#5: Solar Heating/Cooling - 801,400 Jobs
Distinct from photovolatic solar, which produces electricity from sunlight, solar heating and cooling uses the sun's thermal energy for hot water, heating, AC, pool heating, and more.
Asia has the highest number of solar heating/cooling jobs with 711,000 people employed. The US is next with 12,100 workers.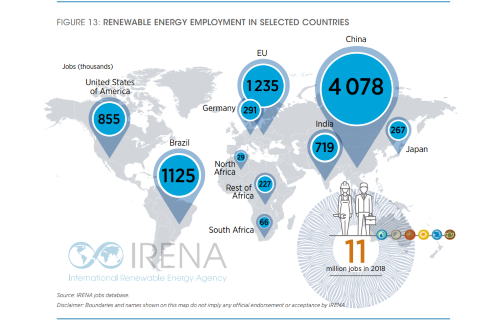 Employment Opportunities Drive Low Carbon Economic Growth
IRENA concludes its report by saying that employment opportunities are key for low carbon economic growth. More governments are prioritizing renewable energy to reduce emissions and meet climate goals, as well as achieve socio-economic benefits.
With the growth of renewable energy, solar panel cost is at an all-time low - see how much you can save today with the HahaSmart Price Checker.
Get Solar Incentives to save even more.