Homes and businesses aren't the only ones adopting solar. Military bases are too.
The US military has aggressive plans to increase its investment in solar.
Solar can help reduce the need for risky transportation of fuel, save lives, increase national security and save on military costs. In addition, solar is providing more career opportunities for veterans than most other industries.
Let's take a look at the advantages solar can bring for the military.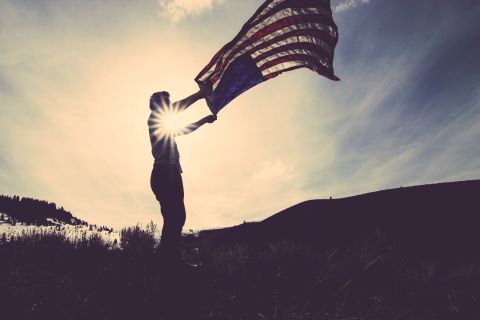 Solar Saves Lives
Supply convoys are easy soft targets for snipers and IED attacks, making transportation of fuel a risky endeavor. When hit, a fuel convoy releases a cloud of roiling black smoke that can be seen for miles. Not to mention the casualties and monetary loss from destroyed equipment and supplies.
According to one report released in 2010 by the US Army, resupply casualties have accounted for 10-12% of total Army casualties, the majority being fuel and water transport.
One solution: reduce dependence on fuel.
Fuel is needed to power generators, vehicles, and aircraft. While the Army may not be able to eliminate the need for fuel entirely, technological advances have made it possible to significantly reduce the amount of fuel needed.
Solar is leading the charge.
With new advances in solar and battery storage technology making solar cheaper and more efficient, solar has become a preferred energy source for the military. And with fewer convoys required to transport fuel across Iraq, Afghanistan and other countries, that means fewer soldiers needed to protect them, and fewer casualties.
An increase in solar energy also reduces the US' dependence on other countries for fuel in general - which means less need to go to war to defend our access to these resources in the first place.
Solar Reduces Costs
The US is the biggest military spender in the world, spending more than the next seven largest military budgets in the world combined, and making up 37% of the world's total expenditures, with this year's estimated spending at $989 billion.
The Department of Defense recognizes a need for greater efficiency and cost reduction, but is limited in the ways it can do so.
One way to cut down on spending is to switch to solar. Solar saves on costs of gas and fuel, not to mention costs resulting from loss of supplies in attacks. It can save military bases money on energy costs, as well.
Despite President Trump's sketicism about solar panels (describing them as "very expensive" in 2016 and attempting to revive the coal industry), military bases are installing more solar panels and saving on costs.
They are also increasing their energy resilience - more on that below.
Solar Increases National Security
Aside from protecting our troops abroad, solar energy also provides greater energy security at home. Solar helps military bases guard against blackouts in the event of floods, storms, or cyber attacks, which can severly cripple communications and leave them vulnerable.
As other enemy countries grow more technologically advanced, the threat of cyberattacks against our critical infrastructure grows. Russian hackers have been proven capable of breaking into the power grid.
In addition, as the military increases its use of drones for surveillance and combat, control rooms increase their dependence on the electricity grid to stay connected during critical missions. A power outage at a critical moment could cripple the military's operations.
Threats come both from within and without. A tornado or hurricane could knock out the power just as a cyber or terrorist attack could. A major grid failure could easily disable our nation's defense.
To protect against outages, the US is adopting more alternative and backup energy sources. Microgrids, wind turbines, solar panels, and battery storage can supply power if the grid fails, both on military bases as well as communities throughout the US.
Congress has already mandated that military facilities must get 25% of their energy from renewable sources by 2025. The Department of Defense has a goal to consume 3,000 megawatts from renewable energy sources by 2025.
The Department of Energy is funding up to $53 million in new projects to advance solar technologies for all users, including the military. It will help lower electricity costs and support the growing solar workforce. The program includes $12.7 million for projects that grow and train the workforce.
Part of that initiative includes employing veterans.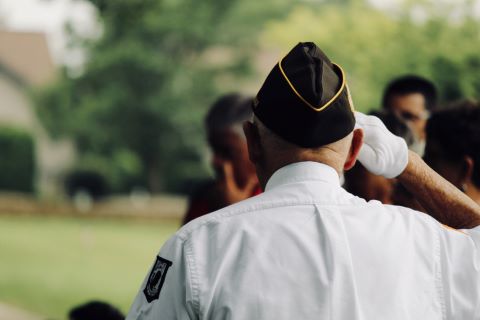 Solar Employs Vets
Solar is a fast-growing industry, creating thousands of good paying jobs, even in periods of economic downturn. The Solar Foundation released its 2018 National Solar Jobs Census, finding that solar jobs increased 159% since 2010, with nearly 150,000 new solar workers. In the US, there are 242,343 solar workers. In 2016 the Foundation found that solar jobs grew 17 times faster than the overall economy, and one out of every 50 new jobs were in solar.
In addition to its positive outlook, the solar industry is employing vets at a 26% greater rate than the rest of the US workforce. With hands-on experience deploying solar in the field, a career in solar can be a natural transition after military members leave the service. They see the power of solar in use on their base, and are drawn to jobs in clean energy as a result.
As part of the Department of Energy's program to fund solar development and research, it has launched Solar Ready Vets, helping veterans transition to the solar workforce.
Solar Ready Vets, run by The Solar Foundation, is a national program connecting transient military personnel with solar training and employment opportunities. It has more than 300 solar employer partners, and training programs at 10 military bases, including: Camp Pendleton, Fort Carson, Naval Station Norfolk/Hampton Roads, Fort Drum, Hill Air Force Base, Joint Base McGuire-Dix-Lakehurst, Joint Base San Antonio, Eglin Air Force Base, Fort Bragg, and Marine Corps Base Hawaii.
Overall, the military is one of the leading innovators of solar, driving new research, supplying a solar workforce, and adopting solar systems at an increasing rate.
We hope to continue to see our military leading the way for change.
The cost of solar is lower than ever - use HahaSmart's Price Checker to see how much you can save today.
Get a preview of how solar panels would look on your roof today with the HahaSmart DIY Design Tool.