With recent proposed plans for the US to switch to a 100% clean energy economy by 2050, we are noticing an increasing trend towards more and more aggressive state laws to reduce or even eliminate carbon-based energy entirely.
And it is much needed, as scientists sound the alarm for a climate crisis underway. We need to take action now to make a difference.
One 2018 report from the Intergovernmental Panel on Climate Change stated that in order to limit global warming to 1.5°C this century, we must reduce human-made net carbon dioxide emissions to zero by 2050.
While this is an ambitious goal, many states are taking this issue seriously, and stepping up to the plate.
Solar energy is one of the best ways for states to meet their 100% renewable energy goals. Therefore, the states with the most ambitious clean energy goals tend to also be leaders in the solar industry.
Can you guess which states top the list?
Here are the top 10 states committing to 100% renewable energy by 2050 (or sooner!).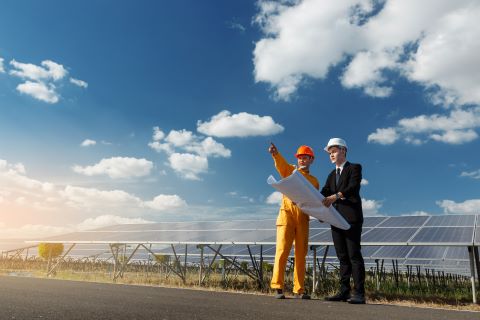 1.Hawaii
Hawaii makes the top of the list because it was the very first state to commit to 100% renewable energy by 2045, with its 2008 Hawaii Clean Energy Initiative (HCEI).
Oil used to supply 90% of the state's energy, four times more than any other state in the US. This was not a sustainable practice, threatening resources and the state's economy. When oil and gas prices soared in 2008 during an energy crisis, Hawaii was forced to spend $7 billion to meet its energy needs. The state decided to take action and established the most aggressive clean energy goals in the nation.
Originally, it planned for 70% renewable energy by 2030. In 2015, the state increased its goal to 100% by 2045.
So far, it has kept its promises, generating 27% of electricity from clean energy sources like wind and solar as of 2018, 12 points ahead of its original 2015 RPS target of 15%.
It's #1 renewable energy source is distributed solar PV, with 827 GWh, or 33.5% of total generation as of 2016.
Hawaii is saying Aloha (goodbye) to dirty energy and Aloha (hello) to solar!
2. California
It will come as no suprise that the Sunshine state is a leader in solar energy, as well as renewables in general. This state has a strong track record of aggressive clean energy measures and goals, and it continues to lead the way for to a bright future in the US.
Last year, in September 2018, California signed a bill mandating a goal of all zero-emission energy sources by 2045.
Governor Jerry Brown also called for carbon neutrality by the same year, removing as much carbon dioxide from the air as it emits. In a statement, he said, "It will not be easy. It will not be immediate. But it must be done."
In December 2018, California took another giant leap forward, making history by unanimously approving a new policy requiring all new homes to use solar energy starting 2020.
Keep it sunny, California!
3. Washington D.C.
While not technically a state, we still feel that the nation's capital deserves its spot in third place.
The District of Columbia recently passed the Clean Energy Omnibus Act of 2018, promising to set an example for the nation by reaching its 100% renewable goal by just 2032, eight years sooner than the nearest competition.
Way to set the bar high!
4. New Mexico
Just this year in March 2019, the Land of Enchantment passed the Energy Transition Act, mandating more solar panels and wind turbines as part of its requirement for 80% renewable energy by 2040 and for public utilities to be 100% carbon-free by 2045.
5. Nevada
The home of "Sin City" is anything but sinful when it comes to ambitious clean energy goals.
In April 2019, lawmakers unanimously passed Senate Bill 358, doubling the state's renewable portfolio standard (RPS) from 25% to 50% by 2030, and also setting a new goal of 100% carbon-free electricity by 2050.
6. Washington State
Not to be confused with Washington D.C., Washington State also makes our list after passage of the 2019 Senate Bill 5116, requiring transition to 100% clean energy by 2045.
The bill was signed by Governor Jay Inslee (D), who is running for president on a climate change platform. As they say, actions speak louder than words, and this candidate is is very loud indeed.
7. Maine
Just last month, June 2019, saw Maine pass three clean energy bills, including a Renewable Portfolio Standard committing the Pine Tree state to 80% renewable energy by 2030 and 100% by 2050.
The VP of State Affairs at the Solar Energy Industries Association (SEIA) congratulated the state on making the change, saying:
"For too long Maine has lagged behind on solar because of backward policies that singled out solar customers and tacked on unnecessary fees. Over the past few months, the Maine Legislature reversed these harmful policies[…] a strong signal that the nascent solar market in Maine is about to take off, bringing clean energy, jobs and new investments along with it."
Great job, Maine!
8. New York
New York's Governor Cuomo made an "Empire State"-ment last week, signing the most aggressive climate law in the US to date, with goals to reach 70% renewable energy by 2030 and 100% carbon-free by just 2040.
The Climate Leadership and Community Protection Act also commits the Big Apple to 6 GW of distributed solar by 2025.
I love New York!
9. New Jersey
The Garden State's Governor Phil Murphy this year signed an executive order calling for 100% clean energy by 2050. It details plans for development of offshore wind, community solar and energy storage, while still leaving the door open for nuclear power generation.
10. Minnesota
Following the lead of other states this year, Minnesota proposed legislation in its "One Minnesota Path to Clean Energy" to bring the state to 100% carbon-free electricity by 2050.
Like New Jersey, it has kept nuclear power on the table, preferring to be flexible with utilities to find the best path towards a green future.
Bonus: The Territory of Puerto Rico
This year, the hurricane-battered territory adopted the Puerto Rico Energy Public Policy Act, establishing a goal of 100% clean, renewable electricity by 2050.
In addition to creating a stronger infrastructure in the face of increasingly devastating storms, it hopes to move away from expensive imports of oil, gas, and coal that make up the majority of its energy generation, with an additional goal to cease burning coal by 2028.
Puerto Rico's struggle with Hurricane Maria demonstrates exactly why ambitious climate laws are needed, and soon, as large natural disasters become the new norm.
We hope that more states will continue to jump on the solar energy bandwagon and set aggressive goals to save our planet.
Which state do you think will be next to go 100% renewable? Leave your vote in the comments!
Join the clean energy intiative today - use HahaSmart's Price Checker to get instant quotes for solar panel installers in your area.
Design the best solar array for your roof using the HahaSmart DIY Design Tool.