Solar panels and batteries could keep the lights on during California's utility-mandated Public Safety Power Shutoffs in fire season. However, PG&E's recent bankruptcy could raise solar prices and hurt California's clean energy goals if it successfully renegotiates its older solar contracts.
Read more to learn how California's solar market is being impacted, and what can be done.
---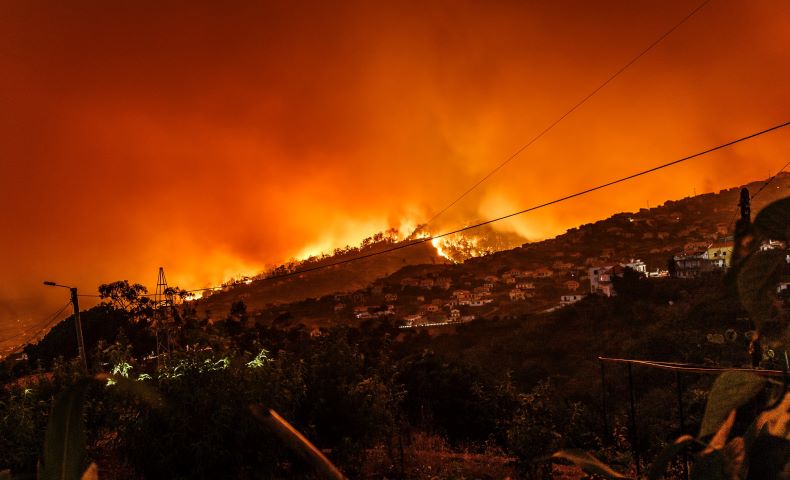 California residents feel the heat!
In the aftermath of some of the biggest fires in California history, including the Camp Fire in 2018, which is listed as the top most devastating fire in the state's history, Pacific Gas & Electric Company (PG&E) declared bankruptcy in the Court of Northern California, facing $30 billion in wildfire damages, which far surpass the $1.5 billion in liability insurance coverage PG&E carries.
Further to its bankruptcy, PG&E (along with San Diego Gas & Electric and Southern California Edison, which is currently being sued for its role in the 2018 Woolsey Fire) in May 2019 put a controversial fire safety plan in place to turn off power completely for millions of customers on high-wind days during fire season. Many California residents are outraged, facing what could be days of blackouts during days of high winds and low humidity.
This plan comes after PG&E's admission that a transmission line snapping in windy weather was the likely cause of the deadly Camp Fire, which devastated the town of Paradise, CA, killing 85 people, burning down over 18,000 structures, and costing an estimated $16.5 billion in damage, a quarter of which was not insured.
PG&E's bankruptcy and new public safety measures are having a huge impact on the outlook of solar in the state. Here are some of the changes we can expect.
Solar Panels and Batteries Provide Backup Power for California Residents
Approximately 25% of California's population – 11 million people – currently live in "high fire threat" areas subject to the Public Safety Power Shutoffs (PSPS).
With the prospect of several blackouts per year that last for days with minimal warning, California residents and businesses are increasingly turning to solar power as an alternate solution to provide electricity and peace of mind.
Home solar systems can be used to safely and reliably generate power, store and utilize it when needed most, during emergencies and power outages, without dependence on utility companies. Solar panel installations have increased more than 200% annually over the last four years and are set to continue growing.
Solar batteries provide a clean, quiet, cost-effective alternative to generators, and are recharged by the sun's rays each morning. When a power outage occurs, a solar battery turns on and sends electricity to important appliances, like air conditioning, security systems, water pumps, and refrigerators.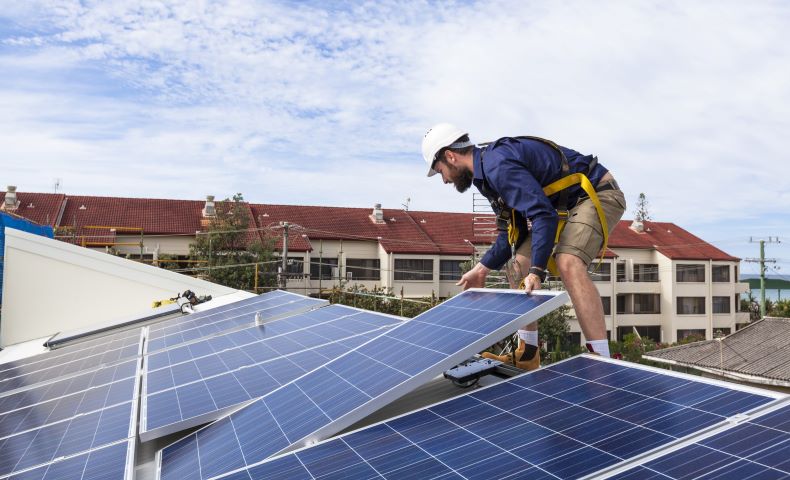 California wildfires are skyrocketing home battery awareness and installation, as more residents look for solutions to the increasing threat power outages.
The residential battery market is small, with only a few hundred megawatt-hours installed in 2018. But it is growing tenfold, according to a Wood Mackenzie Power & Renewables report, and some solar companies expect sales to double this year. Companies are seeing increased conversions around solar batteries, and some are even offering discounts for California residents who wish to prepare their home with solar.
Increases in solar panel and battery installations are common after natural disasters like hurricanes. However, the increase in California is a pattern that seems to be holding, as climate change turns up the heat and a year-long fire season becomes the new normal.
Clean-Energy Microgrids: A Long-Term Solution
Microgrids have been proposed as another solution to help reduce the impact of PSPS events.
A microgrid is an energy system that is either disconnected from, or can be "islanded" from, the main grid, allowing electricity to flow during a power outage. While traditionally fueled by diesel or other fossil fuels, there is an increasing push towards microgrids powered by solar and lithium-ion batteries, especially in California, where clean energy is a priority.
Still relatively expensive, microgrids do best at institutions willing to pay higher premiums for backup power, like hospitals or universities, as well as areas where the grid is not reliable. PG&E is considering microgrids as part of its "resilience zones," areas with critical services like gas stations, grocery stores and more, that it hopes to better protect from fire in the future.
A test case in Borrego Springs
San Diego Gas & Electric Co. (SDG&E) has created the perfect testing ground for use of microgrids in fire-threatened areas.
The Borrego Springs microgrid, built in 2012 after a wildfire knocked out the town's one transmission line and power for two days, and expanded after a $5 million grant from the California Energy Commission in 2015, is capable of powering the entire town by itself for hours at a time.
The microgrid combines diesel generators, a commercial solar farm, lithium-ion batteries, rooftop solar panels, and an ultracapacitor, enabling the SDG&E to successfully "island" Borrego Springs during outages. The entire system can be operated remotely from the control center 80 miles away.
It's clear that microgrids could be an excellent solution, but they may not be a great immediate solution. While policymakers are pushing for microgrids that use clean energy, and companies are urging the state to support decentralized sources of energy, California lacks the resources to install these solutions this year. It is more focused on other fire preparedness measures, like inspections, shoring up infrastructure, and vegetation management.
But microgrids are definitely something that should stay on the radar. California needs to put measures in place as soon as possible, as the risk of fire damage and power outages is not going anywhere anytime soon.
Solar Projects Feel the Aftershocks of PG&E's Bankruptcy
While wildfires are calling attention to solar solutions and increasing interest in them, there is another angle to consider on the business side.
PG&E, as the largest utility in California, has a huge impact on the solar market, and its recent bankruptcy may have serious consequences for the future of solar as it restructures and seeks to reduce costs in its bankruptcy proceedings.
Renegotiations of solar contracts could undermine California's clean energy goals.
Long-term power-purchase agreements (PPAs) signed by solar and wind farms are at risk, as they make an easy target for PG&E's bankruptcy lawyers, looking for funds to keep the company's other obligations.
PPAs signed in the early 2010s were sold at prices three to five times higher than today's prices. If PG&E decides to renegotiate these contracts to today's rates, it would save the company about $2.2 billion a year, according to Credit Suisse - however, it places future solar projects and pricing at risk.
If solar projects are hit with the cost of renegotiated contracts, it is likely that they will increase the cost of renewable energy projects and new PPAs in the future, hurting California's goals.
In June 2019, the utility won a legal victory when Judge Dennis Montali ruled that the bankruptcy court, not the Federal Energy Regulatory Commission (FERC), has final say over whether PG&E may cancel or renegotiate $42 billion in PPA's. However, it is likely the decision will be appealed.
Other energy programs at risk include energy efficiency, smart grid to energy storage, and microgrids
With PG&E's significant financial commitments to state-mandated energy programs, these are other areas at risk of being cut or curtailed. PG&E is the California's largest investor in electric vehicle infrastructure and energy efficiency, so we can expect delays in these programs.
While less susceptible than PPAs to bankruptcy cost reduction, it is important for those with a stake in the state's clean energy initiatives to be ready to participate in bankruptcy proceedings to defend these programs, nonetheless.
Customers can expect higher rates - but solar offers relief.
While PG&E customers state-wide will likely feel the pain of increased gas and electric costs for years to come, there is another option that is increasingly attractive: going solar.
Solar panels will not only help you avoid loss of power during periods of high fire risk, but it will allow you to avoid increased energy costs by cutting your dependence on utility companies like PG&E.
The benefits of solar are endless and going solar is as easy as 1, 2, 3, 4!
See how much you can save on solar today with HahaSmart's Price Checker.