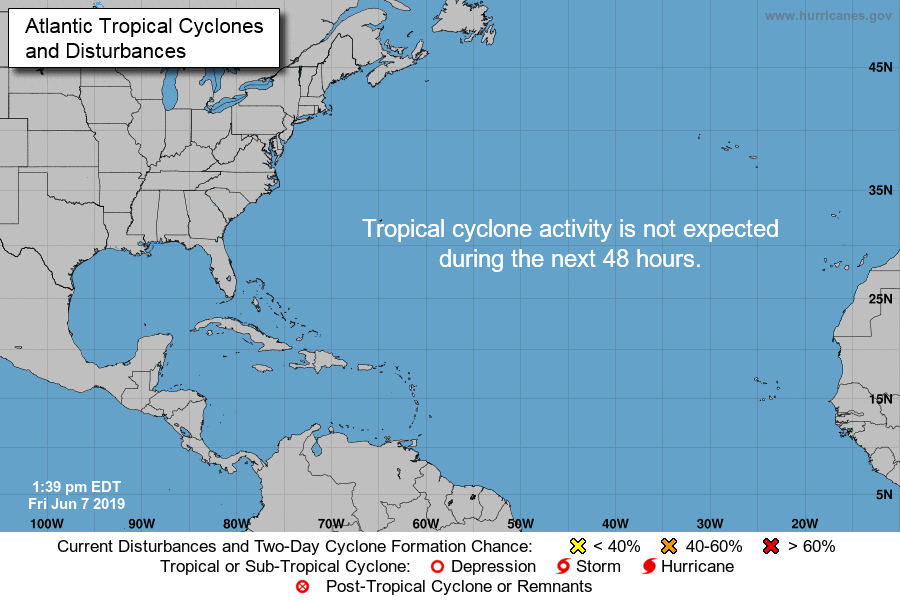 For residents of Florida and other states along the Gulf Coast, June doesn't only mean the end of the school year, it also signals the official arrival of Hurricane Season.
In late May, the National Oceanic and Atmosphere Administration (NOAA) predicted "a likely range of 9 to 15 named storms (winds of 39 mph or higher), of which 4 to 8 could become hurricanes (winds of 74 mph or higher), including 2 to 4 major hurricanes (category 3, 4 or 5; with winds of 111 mph or higher)."
No one can predict with 100% certainty what the Hurricane Season will mean. Last year, hurricanes Florence and Michael caused significant damage in the southeastern U.S., particularly North Carolina the former, and Florida the latter.
And who could forget the devastation caused by hurricane Maria in Puerto Rico in 2017. The island's electrical grid was leveled, leaving nearly the entire population in darkness for months. The recovery process still continues for some.
Such is the case of Rafael Guzman and Leinai Romero who spent more than four months without power, relying on a generator to run a refrigerator, two fans and cellphone chargers. But when the couple learned in April 2018 they were having a baby, they sought to prepare for any eventuality, reported the Wall Street Journal.
They installed 16 solar panels on the roof of their home in Caguas, south of San Juan, and a battery that charges during the day and allows them to run appliances and a TV at night.
Solar Power, another part of your hurricane kit
Just like that couple, those who live in hurricane and tropical storm-prone areas should include more than tarps, drinking water, disposable batteries, a first aid kit and dried food into their survival kit, says Anthony Karcz in Forbes Magazine. Solar power should also be a consideration.
He recommends the Goal Zero Boulder 100 Solar Panel Briefcase, which features two 50-watt panels, connected by a hinge, with an integrated kickstand. "It's the easiest way to charge up your generation. Unfold the briefcase, point it at the sun, and plug it in."

Solar is built strong
That's a good idea for portable solar power, but if you're looking to install solar panels on your property, you'd want to know whether they can sustain and work after a storm.
Photovoltaic (PV) modules are expensive for one reason - they are manufactured to be of high quality and resistible. They're not completely indestructible, but most high-end solar panels can withstand practically any environmental condition.
There are several cases where solar panel systems came out almost completely damage free after hurricanes Hurricane Harvey and Irma. For instance, according to the National Renewable Energy Laboratory (NREL) the the roof-mounted PV system atop Guaynabo Water Filtration Plant in Puerto Rico survived Hurricane Maria.
The biggest damage that a hurricane can cause to a solar panel system comes from wind and water exposure. Theoretically, strong enough winds could dislodge your solar panels from their mounting structure or cause debris or other objects to hit them, but this is all dependent on how strong the winds are. Water damage is also possible, but most insurance will cover this.
Because of all this, a solar panel's wind load rating is especially important when determining how the panel can hold up in an extreme storm. The wind load is measured in pascals, which is a unit of measurement that, in materials science, represents the stiffness and strength of a material. Most solar panels are manufactured to withstand up to 2,400 pascals, which is the same as winds of approximately 140 MPH, but the durability varies from state to state due to their different solar laws.
Most places in Florida require solar installations to withstand winds of 160 mph minimum, and in place like Houston, Texas, where hurricane Harvey caused massive destruction, that number is 110 mph.
Roof-mounted solar systems are positioned within a few inches of the roof, and wind blowing between the panels and the roof can cause a huge amount of what engineers call "uplift." Those systems are designed to withstand huge amounts of uplift force, with huge lag bolts that are screwed directly into the roof beams and sealed with extra care.
If something were to happen to your solar panels, remember that Most homeowners' insurance policies cover solar panels as a structural component of the home
It's recommended that you take photos of your home solar energy system and keep them with other important documents to show your insurance company should there be any damages in the future.
Those with a solar lease or Power Purchase Agreement (PPA) don't have to worry about anything, since all maintenance and repairs is covered in the contract.
Just one note of caution, if there is a hurricane, don't go near the solar panels to try to repair them on your own. The high voltage that travels through them can kill you and any repairs you do yourself can disqualify you from the insurance coverage.
HahaSmart Blog - More Solar Tips and Guide
HahaSmart News - Stay Informed
Your Solar Incentives - See Credits and Incentives in Your Area
Check Your Home's Solar Price - See How Much You Save
Register Now - Unlock The Lowest Solar Prices in Your Area