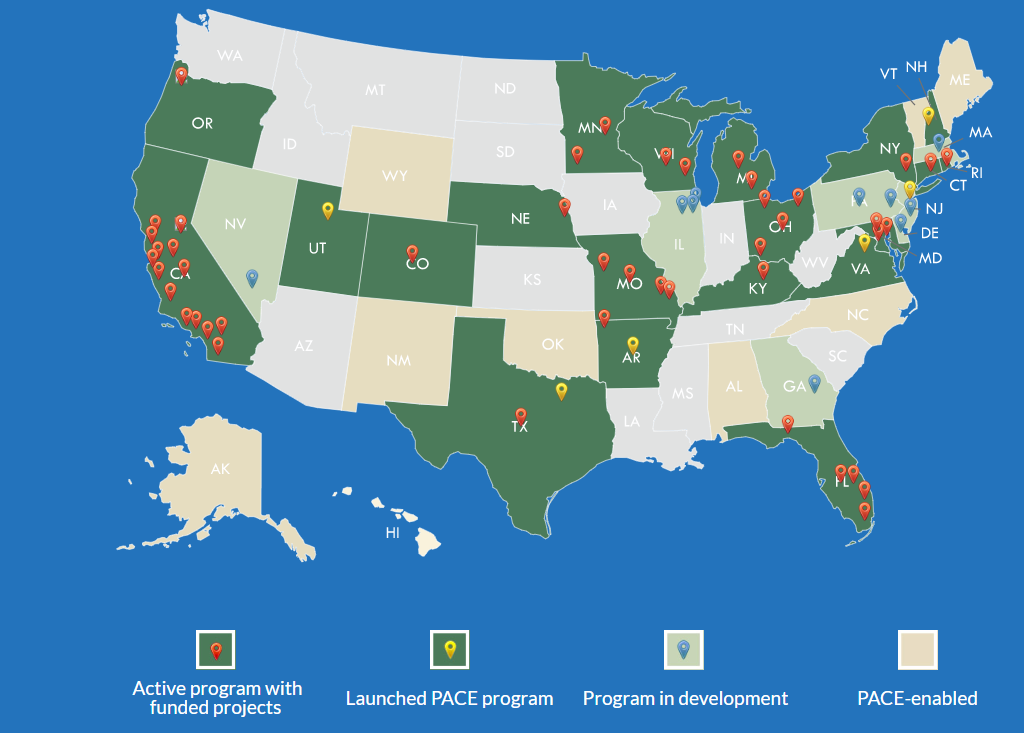 If you don't have the money to pay for the upfront costs of installing a home solar energy system in your property, one way you can do it is by financing it through the Property Assessed Clean Energy (PACE) programs that are available in many states.
What is the PACE program?
Similar to a traditional loan, PACE allows property owners to pay for renewable energy projects in their homes through low interest, long-term loans extended by a city, county or state.
Under the PACE program, the city will loan the homeowner the amount needed to cover the cost of their solar panel system and the homeowner agrees to pay it back over time through a voluntary property tax assessment in their existing property tax bill.
PACE does not require a credit check and has terms that typically last 15-20 years. When you sell your home, the tax liability will be transferred to the new owner until the loan is paid off.
PACE covers not only home solar energy systems. It extends to new roofs, air-conditioning systems, and water heaters.
And it's available to both residential and business owners that may include multi-family buildings, industrial and agricultural.
According to the Center for Climate and Energy Solutions (C2ES), the PACE concept began as a pilot project in Berkeley, California, in 2008. Since then, the vast majority of states with legislation authorizing PACE programs have authorized both residential and commercial PACE programs, but a few states authorized only one or the other.
The Balance, a personal finance website, notes that PACE is only available in locations where state and local laws allow this type of financing, and where local programs have been developed. These programs go by several different names, including the popular Home Energy Renovation Opportunity (HERO) program and Ygrene.
Benefits
The benefits of PACE is that you can cover 100% of the cost of an energy improvement project in your home, such as the installation of solar panels on your roof.
And the long-term payback can help you manage the payments through the electricity savings you will get from your domestic power system. It also helps the environment by reducing energy use and lowering your carbon footprint.
"To date, PACE financing has allowed more than 220,000 American homeowners to make voluntary upgrades that save energy and strengthen their homes against natural disasters. These upgrades have also conserved water, reduced pollution, and helped to create more than 42,000 local jobs in the construction sector," notes Colin Bishopp, Co-Executive Director of PACENation, the national non-profit organization that advocates for PACE financing.
"Residential PACE offers extraordinary economic and environmental benefits, but no benefit is more important than the one it offers to homeowners. PACE expands access to financing so that more American families can increase the efficiency and resiliency of their homes. This is PACE's core value to the communities that have embraced it. We look forward to working with the CFPB to preserve this value, and to ensure that every residential PACE program in America offers strong consumer protections."
Drawbacks
Just this week, Collier County Commissioners in Florida voted to immediately end the PACE program after a series of allegations surfaced about PACE-certified contractors, such as excessive prices, forging the names of homeowners on documents and recording tax assessments in excess of 20% of the fair market value of a home.
There have been similar allegations in other areas.
In the story in The Balance, they also point to other disadvantages of the program, such as contractors who serve as the middlemen in PACE financing and might promote expensive upgrades.
Another issue is that interest rates for PACE funding is sometimes higher than a home equity loan or line of credit -- especially if you have a high credit score.
Also, be aware that once a property owner opts into a PACE financing program, the property remains subject to the PACE arrangement even if it is sold, transferred or foreclosed upon. The remainder of the assessment automatically becomes a first lien on any property — putting both the borrowers and mortgage lenders at risk.
In other words, if you don't pay a PACE loan, you could lose your home in foreclosure.
And while the program offers a long-term repayment period, this could also play against the borrower. Property assessments are often paid only once or twice per year, not monthly. So you must save money to make the entire payment when it's due. For some people, this might be a burden into itself. If your home loan servicer pays property taxes through an escrow account, the PACE payment can be added to your mortgage payment to make it easier to manage.
To find out if your state offers PACE financing, visit PACE Nation.
HahaSmart Blog - More Solar Tips and Guide
HahaSmart News - Stay Informed
Your Solar Incentives - See Credits and Incentives in Your Area
Check Your Home's Solar Price - See How Much You Save
Register Now - Unlock The Lowest Solar Prices in Your Area