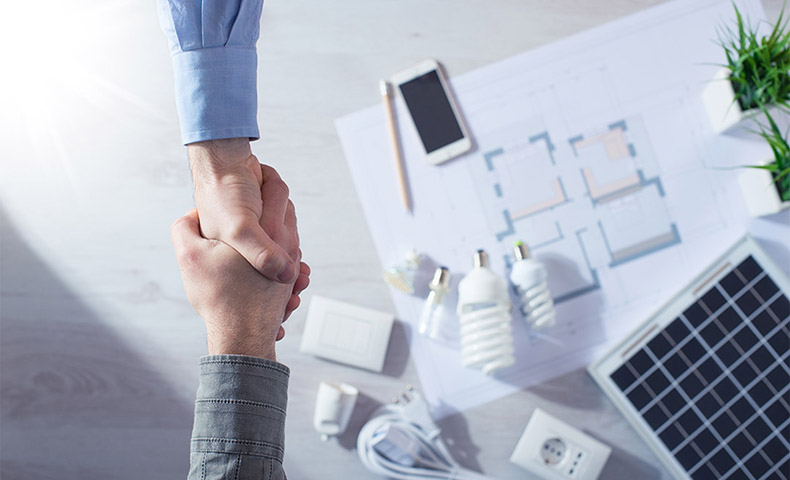 The Best Ways to Pay for Your Solar Panels
The prices of solar panels have come down tremendously in the last decade, leading to the doubling of solar installations in only three years, which now number two million across the United States.
But going solar can still cost between $11,000- $14,000, a sum that is affordable for most people, but not all.
However, cost shouldn't be an impediment to someone who wants to help the environment and his own pocket by reducing his electricity bill. There are a number of ways to finance solar panels depending on your situation and preference.
Cash
If you have it, use it. In most cases, paying cash is in the best interest of the person who owns the panels and the system. He/she gets the 30% federal tax credit for the total equipment and installation costs of the system.
The owner also gets the solar credits offered by utilities in net metering programs. In addition, the owner will get all the electricity produced by the system during the entire lifetime of the system, which may be 25 years or longer. With a properly-sized and efficient home solar energy system, this may means no more paying for electricity at all.
If you want to know how many panels are needed to cover your individual energy needs and how much it will cost you, you can easily find out with the Hahasmart price checker. Just provide your address and your average monthly utility bill and you'll get the actual price of solar panels and inverters - which are the most critical parts of a solar powered system - as well as provide you with an estimated cost of installation based on thousands of completed solar projects in your area.
They'll even provide you with an estimated buyback period, the point where the electricity savings achieved with your solar array cover the purchase of your residential solar panels and your system becomes free.
In addition, they'll connect you with their installer network to get your residence equipped with solar power as possible.

Home Equity Loan
If you don't have cash on hand, or don't want to use credit cards for this purpose, another way to enter the solar revolution is through a home equity loan. Financing solar through home equity loans, energy efficient mortgages or PACE programs will undoubtedly bring in more savings in the long run.
With a good credit score and a low-interest loan, the savings in generating your own electricity should be sufficient to pay the monthly loan.
Solar Lease
Third-party financing allows more Americans to "go solar" by lowering the cost of solar installation and maintenance of a system. Under a lease, the solar provider installs and owns the system and the customer makes monthly payments to the solar provider.
Unless you have to, solar leases are not recommended for homeowners, despite the savings associated with them.
The solar-powered system will never be yours and leases often come with escalating costs.
PPAs
Power Purchase Agreements (PPAs) and leases were the preferred methods of financing home solar energy systems a decade ago, when the price of solar arrays was still out of reach for most homeowners.
A power purchase agreement is very similar to a solar lease, however, there is one key difference: You pay a pre-determined monthly amount for every kWh the solar system produce (as opposed to paying a monthly fee regardless of power production.)
According to the Solar Energy Industries Association (SEIA), third-party financing for residential systems has been declining over the last several years. In 2013, 72% of residential systems installed in California were third-party owned, compared with 32% in 2017. However, it is still a popular method
PACE program
Some states offer Property Assessed Clean Energy (PACE) program, allowing you to finance your solar power system this way. The way it works is that the homeowner gets a loan from certain municipalities (city, town, county or state) and pays back through higher property taxes over 15 to 20 years.
As with home equity loans, in many cases, electricity savings exceed loan payments from the start.
Shared Solar
Many homes are not suited for solar due to shading, structure and ownership issues. Community or shared solar is an option in these instances. You and your neighbors pitch in for a solar farm nearby and everyone benefits from the power generated.
Another form is through solar co-ops, where groups of 50-100 neighbors go solar together. Co-op members leverage bulk-purchasing power to get discounted pricing and a quality installation, while still signing individual contracts that ensure the right system for their home.
Nonprofit organization Solar United Neighbors has helped homeowners in a number of states set up solar co-ops. In these instances, the members decide on a single installer who will work on the solar power systems of all of them at a discount. The winning installer's bid sets the price, equipment, warranties, and any additional components for all proposals issued to co-op members.
HahaSmart Blog - More Solar Tips and Guide
HahaSmart News - Stay Informed
Your Solar Incentives - See Credits and Incentives in Your Area
Check Your Home's Solar Price - See How Much You Save
Register Now - Unlock The Lowest Solar Prices in Your Area