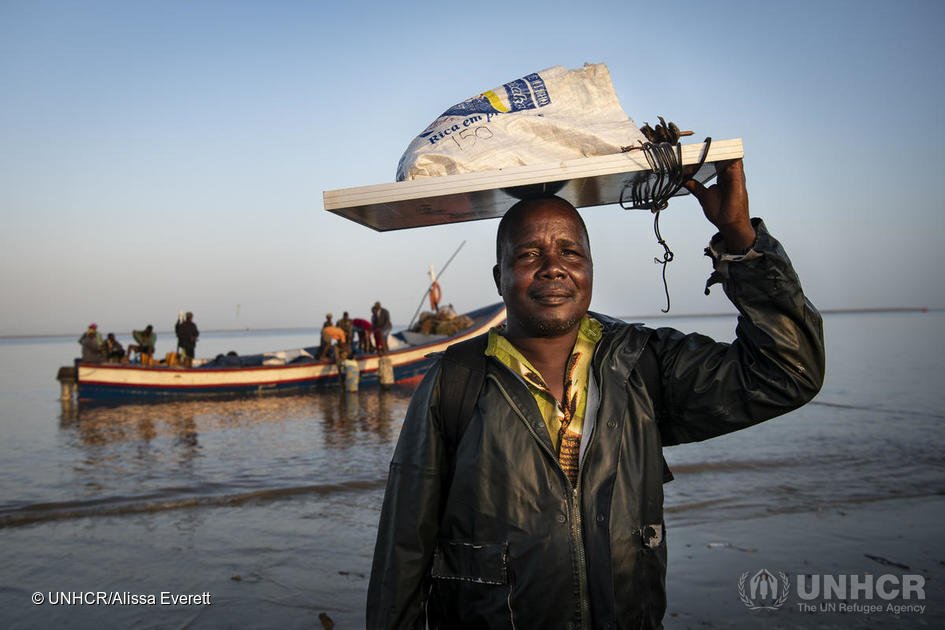 Solar Panels Help in Emergencies
The photo of Gerente shows him standing next to a lake, but it could also be one of the thousands of acres of Mozambique flooded after last month's passage of Cyclone Idai, which has left devastation, disease and hunger in the African country.
A post in the Twitter message from the United Nations Refugee Agency (UNHRC) reads, "Gerente is displaced. He is carrying the few objects he could save to shore. Finding their homes destroyed, and belongings gone, many people have fled to Beira to seek international assistance."
Beira is the fourth largest city in Mozambique and is situated at the region where the Pungwe River meets the Indian Ocean. Thousands of other people displaced have sought refuge there.
While the floodwaters that turned a large part of the country into a vast inland sea are receding, Cyclone Idai has ruined more than 1.7 million acres of crop fields, making food scarce and hunger an ever present danger.
International aid agencies are now seeking help for the thousands of displaced, like Gerente, who was left with few possessions.
"The only thing I could save was my solar panel," he says in the caption attached to his photo, that shows him indeed carrying a solar panel atop of his head.
Solar panels not only benefit the planet and your pocket by providing your home or business with electricity generated by the power of the sun, but as in the case of this and other natural disasters, a lifeline.
A light in dark times
In Myanmar, Reuters reported that fleeing Rohingya Muslims who went to Bangladesh escaping religious persecution were often seen carrying one thing: solar panels.
They used the solar panels - about the size of a laptop - and which connect to a battery and small light, are often used to power cell phones and other small gadgets. They were indispensable for communicating with family and friends, or find up-to-date information in the midst of trying times.
And following the destruction caused by Hurricane Maria in Puerto Rico, when the island was left without electricity for months, solar power became indispensable for a region where fuel was in short supply for generators.
Besides supplying the electricity people crave after a disaster, solar panels are proven to be sturdy and resilient.
Superstorm Sandy in 2012, which affected New Jersey and New York, did minimal harm to rooftop solar systems.
And very few solar systems reported damage or decreased production following the passage of Hurricane Florence in North and South Carolina in September 2018.
Indeed, solar panel and solar technology is now part of aid agencies' response to natural disasters.
Multiple refugee camps managed by the United Nations have installed larger sized solar installations to take care of longer term populations.
Jordan recently completed installation of the largest solar power plant at a refugee camp – a 12.9MW plant at the Zaatari refugee camp. The project, on the border of Syria and Jordan, was funded by the German government and saves the United Nation Refugee Agency $5.5 million a year. The camp of 80,000 Syrians will get electricity from the solar panels for up to 14 hours a day.
The plant will reduce annual carbon dioxide emissions from the camp by 13,000 metric tonnes per year, equivalent to 30,000 barrels of oil. It will also deliver annual savings of around US$5.5 million, which UNHCR – the UN Refugee Agency – will be able to reinvest in vital humanitarian assistance.
A camp in Dadaab, Kenya has installed 278 solar panels that are being used to pump 280,000 liters of water per day.
Moreover, the UN launched the Safe Access to Fuels and Energy (SAFE) Program in 2014, which so far has provided over 175,000 refugees in 10 countries with 150,000 solar-powered lanterns and installed over 2,000 solar-powered street lights in households and communal areas.
"Improving access to a clean and sustainable source of energy can transform broken lives. It can power health centres and ensure that life-saving medication is refrigerated," reads a message on the Energy division of UCHCR. "Street lighting allows people to move around camps in greater safety at night, particularly women and girls, and solar-powered lamps mean they can work, cook, study, socialize and continue with their lives long after the sun has gone down. Additionally, with a clean, sustainable fuel, or fuel-efficient technologies, refugees can cook meals and avert the malnutrition and ill-health that may occur when using open fires."
The implications for you
So, just as you create an emergency plan for your household by putting together a kit with water, food, and other supplies, installing solar panels in your home should be part of that preparation.
With solid racking and sturdy engineering, new solar panels are incredibly damage-resistant and will keep the lights on when disaster strikes.
With the price on solar panels continuing to drop (See price checker), more rebates and incentives available for those getting on the renewable power revolution and natural disasters becoming an all too common experience, solar power should be an easy answer for Mother Nature's hits.
HahaSmart Blog - More Solar Tips and Guide
HahaSmart News - Stay Informed
Your Solar Incentives - See Credits and Incentives in Your Area
Check Your Home's Solar Price - See How Much You Save
Register Now - Unlock The Lowest Solar Prices in Your Area