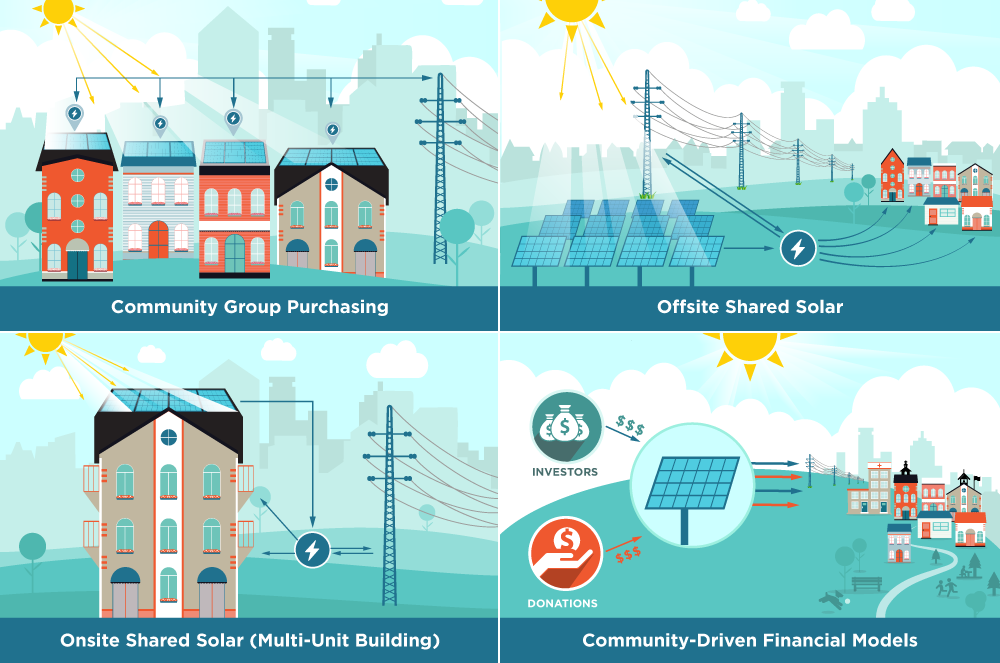 As the industry grows and matures, and with new, ongoing technology developments, the price of home solar panels and equipment has been steadily declining in recent years.
But the cost to put solar panels on a home may still be a little steep or unsuitable to low-income households.
The National Renewable Energy Laboratory (NREL) published a report that revealed that "49% of households and 48% of businesses are unable to host photovoltaic (PV) solar systems because they rent their spaces or have a lack of suitable owned roof space."
However, the price for the installation of solar panels depends on your energy needs. For an accurate estimate, check Hahasmart price checker.
For those unable to put solar panels on their roofs, utilities and state governments across the country are using "community solar" to bring renewable energy to the masses.
Community solar helps bring solar power to everyone
The Solar Energy Industries Association (SEIA) defines community solar as "local solar facilities shared by multiple community subscribers who receive credit on their electricity bills for their share of the power produced."
A community solar project - also known as a solar garden, farm or shared solar - is basically a solar power plant where the electricity is shared by more than one home.
These plants can be owned by the community or by a third party.
SEIA notes that through 2018 community solar projects have generated 1,387 megawatts of power. And that there are 43 states with at least one community solar project on-line
The California Energy Commission explains that one megawatt is equal to one million watts, "roughly enough electricity for the instantaneous demand" of between 750 and 1,000 homes at once.
SEIA reports that community solar extends the benefits of solar power to those who not only may not be able to afford the upfront costs of installing their own solar panels or equipment, but may not have the structural capacity to do so, including people who rent, live in multi-tenant buildings or have roofs that are unable to host a solar system.
"Community solar provides homeowners, renters, and businesses equal access to the economic and environmental benefits of solar energy generation regardless of the physical attributes or ownership of their home or business," notes SEIA.
An example
The state leading the charge in community solar projects is Minnesota, which accounts for over half of all installations set up in 2018.
Often, community solar projects need a large open field where to locate the dozens or hundreds of solar panels to generate the electricity, but that's not always the case.
Case in point is a 204-kilowatt shared solar array built on top of the Shiloh Temple International Ministries in the city of Minneapolis.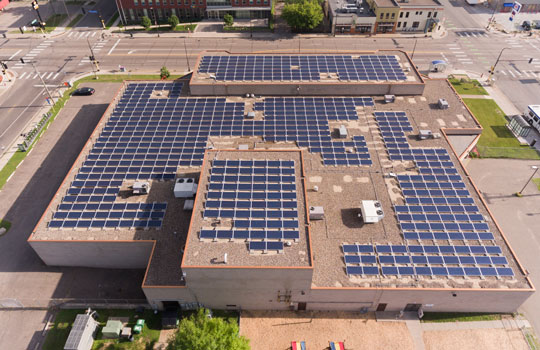 Built for around $500,000, this facility features 630 solar panels that generate 242,760 kilowatts hours per year, enough to power 40 homes annually, and eliminating 398,301 tons of carbon dioxide at the same time.
The solar panel array is ran and maintained by the Cooperative Energy Futures, a Minneapolis energy cooperative owned and controlled by community members across the Twin Cities.
Under community solar projects, members can subscribe depending on their needs and means. Often, there's a limit to how much power each subscriber can receive.
The subscription can also be pay-as-you-go, where the member pays a monthly fee for the actual solar energy produced by that amount of the solar garden or upfront, where they pay a fee amounting to the cost of a, say 10 years, of power consumption.
The largest low-income community solar project in the U.S. is the Coyote Ridge Community Solar Farm in Fort Collins, Colorado at 1.95 megawatts. The solar energy produced there will benefit low-income households, affordable housing providers and non-profits.
Already, nearly 400 households enrolled in low-income solar projects save between 15 and 50 percent on their electricity bills.
The Department of Energy Office of Energy Efficiency & Renewable Energy has created several partnerships and awards to bring solar power to a wider audience through community solar projects.
The benefits are shared by all, they indicate.
"Instead of acting alone to purchase solar panels and hiring professionals to complete individual site assessments, shared solar programs divide those costs among all of the participants. This also makes it easier for participants to buy in at a level that works best for their budgets."
But it's not just residents and businesses that benefit with lower electricity costs. A community solar project coupled with energy storage systems that connects to the electrical grid can add power when demand is high, in case of a storm or natural disaster.
"Community solar expands access to solar for all, including in particular low-to-moderate income customers most impacted by a lack of access, all while building a stronger, distributed, and more resilient electric grid," states SEIA.
HahaSmart Blog - More Solar Tips and Guide
HahaSmart News - Stay Informed
Your Solar Incentives - See Credits and Incentives in Your Area
Check Your Home's Solar Price - See How Much You Save
Register Now - Unlock The Lowest Solar Prices in Your Area