Solar Power and Soil a Winning Combination for Food and Water!
Solar energy's benefits to the planet are a no-brainer. It provides renewable energy and reduces the world's dependency on fossil fuels that pollute and create waste.
However, the installation of large solar farms often comes with drawbacks. But it doesn't have to be, according to a recent report from the National Renewable Energy Laboratory (NREL)
Their efforts through low-impact solar development, where large solar installations are placed on land that may be leveled in some areas, but the topsoil is preserved, is yielding positive results for both energy production and ground preservation.
The process is different than what usually happens currently, where solar farms -- with an array of hundreds of solar panels -- are located on ground that is first leveled, removing much of the topsoil and vegetation with gravel or artificial turf.
Instead, low-impact solar development allows for native and other beneficial vegetation - often friendly to bees and other pollinators - to thrive.
And there are other benefits. In these areas there's added water retention by the native vegetation, allowing for local species to survive.
The Department of the Energy's the InSPIRE project utilizes field research sites located across the United States to investigate low-impact solar development opportunities, as well as region-specific benefits and tradeoffs.
During a public event in Minnesota organized by the independent nonprofit organization Fresh Energy Jordan Macknick, the Lead Energy-Water-Land Analyst for NREL, highlighted his research on pollinator habitat at solar sites.
He told the crowd that to date, "his findings indicate that while installing pollinator habitat can cost a little more money upfront, it saves money in the long run. Pollinator-friendly plantings do not need to be mowed as frequently as turf grass, and data show that having vegetation rather than gravel under the solar panels increases solar performance by creating a cooler microclimate leading to higher energy output and efficiency. Jordan also shared that NREL is about to publish a study that shows that as of today, there are tens of thousands of acres of existing pollinator-dependent crops growing within one mile of a solar project. These crops would have benefited if that solar project had been designed and seeded to be pollinator-friendly."
Solar production
The benefits are not only for the environment, researchers point out.
Solar energy developers also see advantages. The cost of site preparation (which accounts for 20% of total utility-scale solar costs) is reduced and long-term maintenance of native vegetation is often cheaper than gravel or turf grass.
Natural grass can even give a boost to energy production from solar panels, by cooling them. Warmer temperatures from artificial grass and gravel can reduce the efficiency with which Photovoltaic cells (solar cells that convert the energy of light directly into electricity by the photovoltaic effect) produce energy.
Currently, NREL is studying these developments at several solar energy installations in a dozen states throughout the U.S.representing the country's diverse climates.
Agrivoltaics
But solar energy production and bees is not the only combination being tested by NREL. They are also adding food to the mix - a process called agrivoltaics - where they grow crops under the shade of solar panels, which uses water much more efficiently while at the same time shielding plants from midday heat.
The University of Arizona (UA) describes agrivoltaics as "a new way of combining renewable energy with agriculture in a hot, arid landscape, positioning elevated solar panels over an understory of plants.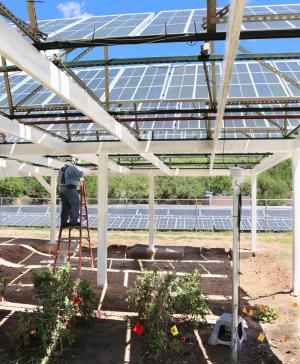 UA scientists are working on agrivoltaics projects just outside of Biosphere 2, the living laboratory where climate change has been the focus of interdisciplinary research in recent years.
"Part of it [agrivoltaics] is making renewable energy better. Part of it is bringing a new dimension to community agriculture, but a big part of it is reaching into those rural landscapes where a simple idea like growing your plants under solar panels can solve some important problems. This work truly is at the nexus of food, energy, and water science," explains Greg Barron-Gafford, Assistant Professor, UA School of Geography & Development.
NREL notes that preliminary results already suggest agrivoltacis can significantly boost the yields of certain plants in hotter-than-average years. "At the Arizona site, cherry tomato yields are doubled and require less water when grown in the shade of solar panels," they say.
And they note that "the solar energy generation also offers farmers a steady, additional source of income—a valuable assurance in a potentially volatile agriculture industry."
However, researchers also point out that agrivoltaics work best for plants that grow well in partial shade, such as yam, alfalfa, cassava, sweet potato and lettuce. It would not be beneficial for shade-resistant crops such as wheat.
HahaSmart Blog - More Solar Tips and Guide
HahaSmart News - Stay Informed
Your Solar Incentives - See Credits and Incentives in Your Area
Check Your Home's Solar Price - See How Much You Save
Register Now - Unlock The Lowest Solar Prices in Your Area